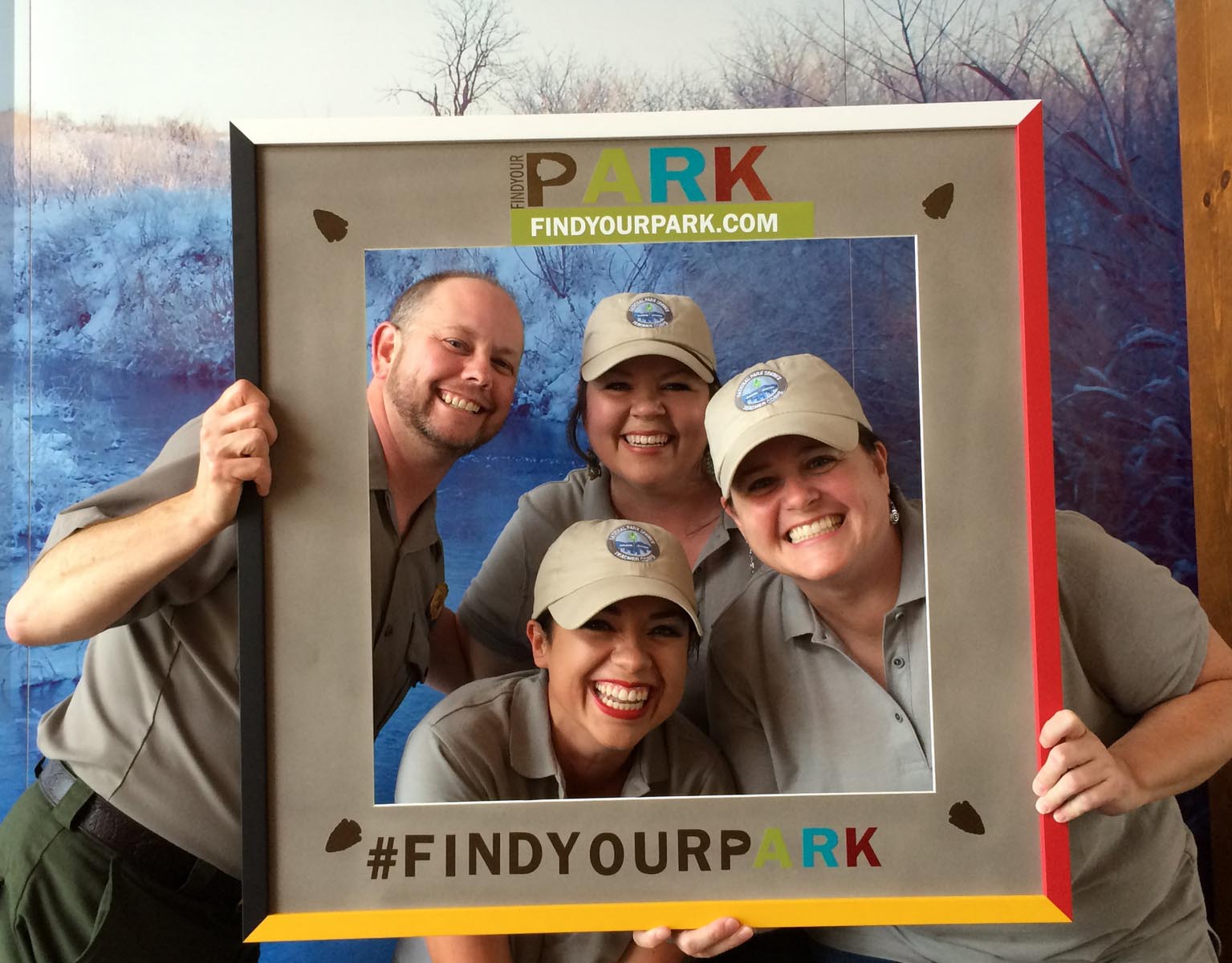 News Release Date:
March 1, 2016
Last summer, Washita Battlefield National Historic Site selected three Cheyenne Elementary School teachers to serve as Teacher Ranger Teachers (TRTs) at the park. The National Park Service's Teacher Ranger Teacher Program provides an extended professional development opportunity for educators from K-12 schools to learn about the resources and educational materials available through the National Park Service. TRTs spend between four and six weeks in a National Park Service unit developing a major educational project, gain three graduate credit hours through an online course from Colorado University Denver, and after successful completion of the program receive a stipend of approximately $3,000.
Elizabeth Henthorn, Angela Scrivner and Andra Wyatt were selected last year. Ms. Wyatt and Ms. Scrivner developed vertical curriculum directly related to the cultural history and natural resources of Washita Battlefield National Historic Site for grades K-4. Ms. Henthorn developed the park's 5-year Education Plan to build up to the sesquicentennial of the Battle of the Washita in 2018 and to expand the park's education program into secondary education and to other school districts.
"During the past four years, we were able to select only one Teacher Ranger Teacher," said Superintendent Tucker Blythe. "This year we had an opportunity to choose three teachers and had an exceptional pool of candidates apply;we took our time during the selection process;we narrowed it down, and it was Cheyenne all the way."
In addition to working on core documents and lesson plans, the three TRTs were able to visit two additional National Park Service units. Alibates Flint Quarries National Monument in Texas and Capulin Volcano National Monument in New Mexico, and one affiliated unit, the Oklahoma City National Memorial. Visiting these units gave the TRTs a better understanding of the diversity of resources the National Park Service protects and preserves, but also an insight into different management and education strategies employed at each unit.
Ms. explainsAfter her TRT experience Ms. Henthorn , "I could have lived my whole life and never known.....I own a lot of parks! Actually, so does every American! I have learned so much, and it has been inspirational to understand the treasures of this land really do belong to you and me! So get to it, America! Find Your Park!"
Ms. Wyatt exclaims, "I learned SO MUCH during my time as a Teacher Ranger Teacher with the National Park Service! The parks in our country are such a treasure and great resource for teaching, and I am excited to introduce my students to the National Parks and get them started on their own path of exploration!" 
Teachers interested in learning more about the Teacher Ranger Teacher program, please contact Kevin Bowles Mohr at
e-mail us
 or 580-497-2742 x 3003. Summer is quickly approaching and the park hopes to recruit a teacher(s) with experience in secondary education.