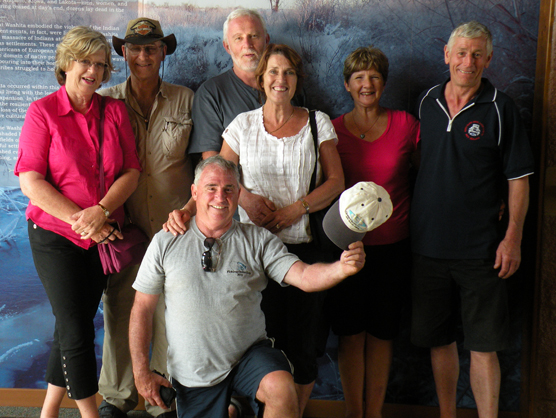 News Release Date:
July 13, 2012
Seven classic car buffs from the Auckland, New Zealand area paid a visit to the park on Tuesday, July 3rd. They first landed in San Francisco, rented a van and drove to Marquette, Michigan to attend the International Ford Model A Convention held June 18 -22.
"The United States is the home of the automobile, and we wanted to see as much of your great country as we possibly could before hopping on the plane to go back home," Terry Costello said, "We're so glad that our friends and fellow Model A enthusiasts, Dwayne and Juhretta Roark, were kind enough to invite us way out here to western Oklahoma."
Park staff had an excellent time listening not only to their accents, but to their impressions of America and the Washita Battlefield National Historic Site. "What happened at Washita is a story which has happened all over the world, observed Diane Jordan, "it's very significant."
Paul Hunter was enthusiastic, "We've been everywhere and have had a fantastic, super good time along the way - thank you all!"