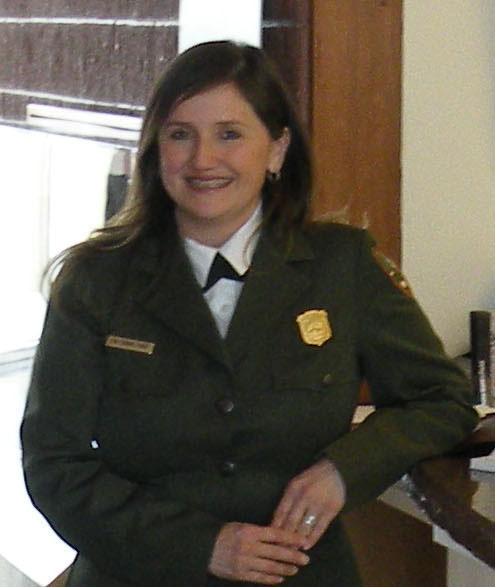 News Release Date:
February 5, 2013
Contact: Kathryn Harrison, 580-497-2742
Park superintendent Lisa Conard Frost, in announcing to park staff that she has been selected to become the new superintendent at Fort Smith National Historic Site in Fort Smith, Arkansas stated, "You all know that it is the nature of the park service that all of us - at one time or another - must move forward to accept new challenges and responsibilities, but I will look back on the time that I have spent here in Cheyenne as one of the best parts of my 20 year career with the National Park Service."  

Superintendent Frost came to Washita Battlefield National Historic Site in February, 2009.  She previously served at the Oklahoma City National Memorial and the Ulysses S. Grant National Historic Site in St. Louis, Missouri.

Washita Battlefield National Historic Site invites everyone to visit with Superintendent Frost at a farewell reception on Friday, February 15th.  The reception will be held from 1:00 PM until 4:00 PM at the park visitor center.

As the superintendent told her staff, "It is never easy saying goodbye, but no one could have asked for better personal or working relationships than I have found here with the wonderful people of Cheyenne, Oklahoma."


* * *

Washita Battlefield National Historic Site protects and interprets the setting along the Washita River where Lt. Col. George A. Custer led the 7th U.S. Cavalry on a surprise dawn attack against the Southern Cheyenne village of Peace Chief Black Kettle on November 27, 1868. The attack was an important event in the tragic clash of cultures of the Indian Wars era. The site is located in western Oklahoma near the town of Cheyenne, halfway between Oklahoma City, Oklahoma and Amarillo, Texas. The park's new visitor center is located one mile west of Cheyenne on Highway 47A. For more information, call 580-497-2742 or check www.nps.gov/waba.
-NPS-