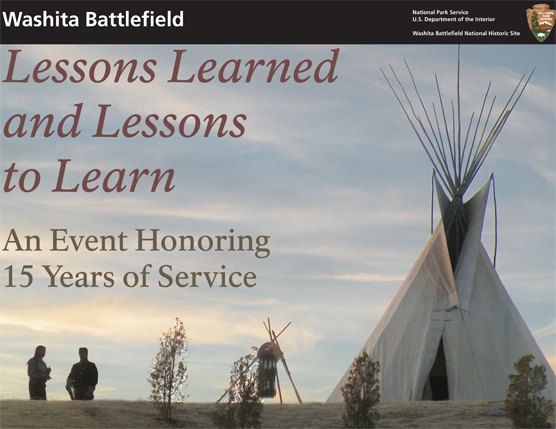 News Release Date:
October 10, 2011
Planning is now underway to commemorate Washita Battlefield National Historic Site's 15th year of service. To honor this milestone we are planning a two-day event entitled Lessons Learned and Lessons to Learn. This event will kick off at 2pm on Veteran's Day, Friday, November 11th at the park overlook.
Cheyenne Chief Gordon Yellowman will open the event by performing a blessing ceremony, with traditional music performed by the Red Moon Singers and Drum Group. Following Chief Yellowman's blessing ceremony; cadets from the Clinton High School Junior ROTC Color Guard will post the colors. After which a message will be given by noted artist and Marine Corp Veteran, Harvey Pratt.
Immediately after the ceremony an open house and reception will be held in the park's visitor center gallery. To conclude the first day of events we will show the film Braided Paths.
The event continues Saturday, November 12th at 8:30am with the Lessons Learned and Lessons to Learn symposium. The symposium will be held at Cheyenne High School Auditorium and will feature the unique perspectives of former NPS historian Jerome Greene, Cheyenne Chief Gordon Yellowman, Southern Cheyenne Chief W. Richard West, Jr., Sand Creek NHS historian, Craig Moore, Oklahoma Historical Society historian, Dr. Mary Jane Ward, and writer, Louis Kraft.
To view the schedule for Saturday and Sunday, click on the Schedule of Events below.