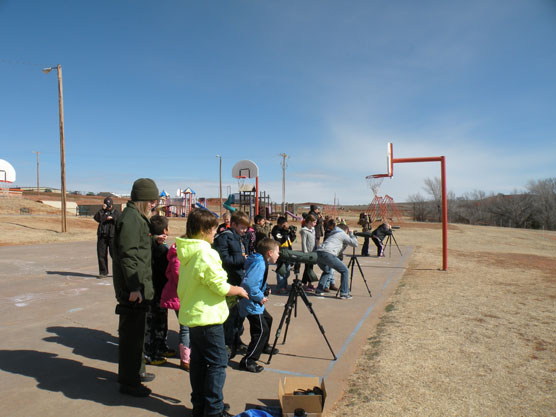 News Release Date:
March 9, 2013
Contact: Teresa Ezersky, (580)497-2742
"Can we stay out here a little longer?" This was a common question asked by students while participating in the Great Backyard Bird Count, an event used to introduce bird watching to students. On Friday February 15, rangers from Washita Battlefield National Historic Site partnered with staff members from Washita National Wildlife Refuge to introduce second and third grade students to bird watching at Cheyenne Elementary School. Amber Zimmerman, refuge manager at Washita National Wildlife Refuge, spoke to each class before going to look for birds. The park would like to thank second grade teachers Mrs. McCallister and Mrs. Smith and third grade teacher Mrs. Barnett for their support in making the 2013 Great Backyard Bird Count a success.
On Saturday February 16, Cheyenne Girl Scout Troop 710 joined Park Guide Teresa Ezersky in counting birds. The girls walked along the park's self-guided trail, looking for birds and then returned to the visitor center for hot chocolate and cookies. This year's count totaled 11 species.
Washita Battlefield National Historic Site protects and interprets the setting along the Washita River where Lt. Col. George A. Custer led the 7th U.S. Cavalry on a surprise dawn attack against the Southern Cheyenne village of Peace Chief Black Kettle on November 27, 1868. The attack was an important event in the tragic clash of cultures of the Indian Wars era. The site is located in western Oklahoma near the town of Cheyenne, halfway between Oklahoma City, Oklahoma and Amarillo, Texas. The park's new visitor center is located one mile west of Cheyenne on Highway 47A. For more information, call 580-497-2742 or check www.nps.gov/waba.