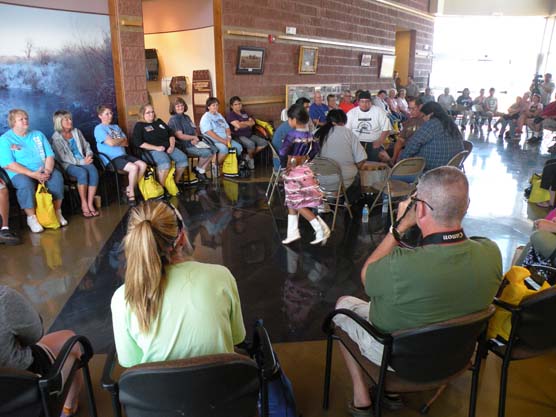 News Release Date:
July 27, 2012
A glimpse throughout the Washita Battlefield National Historic Site's visitor center on Saturday, July 21st would reveal teachers, focused on learning about Cheyenne and Arapaho traditions and cultures. The park hosted its 4th annual teacher's workshop called, A Window on our World. Partnering with the Cheyenne and Arapaho Tribes - Tsististas and Hinono'ei - Department of Education and the Cheyenne and Arapaho Tribal College, the workshop was designed so teachers might learn to incorporate Cheyenne and Arapaho viewpoints into their curriculums.
Superintendent Lisa Conard Frost described the workshop's purpose. "Since there are over 130,000 Native American students attending Oklahoma public schools, we view this workshop as an extraordinary opportunity not only to expand tribal relationships, but to provide a forum for bringing the Cheyenne and Arapaho perspectives into the classroom, as well as the story of Washita." Over seventy-five people, including 44 teachers from across Oklahoma, as well as one educator from Mississippi, attended the event. One teacher commented that in her 20 years as a teacher in Oklahoma and in attending at least that many workshops, this was the first time that Native American culture had been incorporated so intimately. The park was honored to also have in attendance, Dwight Pickering, Director of American Indian Education for the Oklahoma Department of Education.
Cheyenne Chief, Gordon Yellowman, began the workshop with a traditional blessing, and led a program at the site's Native Garden. Also included in the day's activities were sessions chaired by staff from the Cheyenne and Arapaho Tribes Department of Education, led by Executive Director Teresa Dorsett. A traditional meal of corn soup and fry bread was enjoyed by all. The day ended with a Jingle Dress Dance demonstration by a young Cheyenne girl, accompanied by the Red Moon Drummers and Singers. Everyone was then invited to participate in a Native American Social Dance.