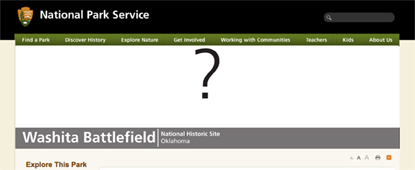 News Release Date:
December 31, 2011
Last November, the National Park Service called for all of its sites to create a more unified look and feel to their websites. The majority of this design upgrade will be done through the Content Management System (CMS) but a few of the changes will be made at the individual site. One such change will be for the park unit to establish a picture that will capture the essence of their site. In other words we must pick an image that will allow people to understand our site. The staff at Washita Battlefield National Historic Site, as well as the other nearly four hundred National Park Service units, is struggling with that same thought. How do we capture our story in an image? One Oklahoma artist has done just that.
After receiving his Masters in Art Education at Oklahoma State University, Mr. Gene Dougherty began teaching at Northern Oklahoma College. Over the next twenty-four years he continued to perfect his painting abilities. These abilities granted Mr. Dougherty with several awards and allowed his works to be sold and displayed throughout the United States.
As a young man Mr. Dougherty worked in taxidermy allowing him to accurately paint animals in a natural state, but it was his fascination with the Washita story that caught the attention of the historic site staff. His copious research and dedication to the story coupled with his perfected use of pigments inspired the staff at Washita Battlefield National Historic Site to choose his work Along the Washita 1868 as the emblem for the new website. His use of pigments perfectly captures the chaotic, fearful moments as the sleeping Cheyenne village is surrounded by the tenacious 7th Cavalry. The eerie accuracy of the painting transports its audience back to that icy dawn all those years ago.
We are proud to feature Along the Washita 1868 on the new website and invite you to come out and see the original work of art in the future. Preparations for the website transformation have already begun. Mr. Dougherty's painting along with all of the other changes will be visible beginning January 31, 2012, so be watching for it.