Plants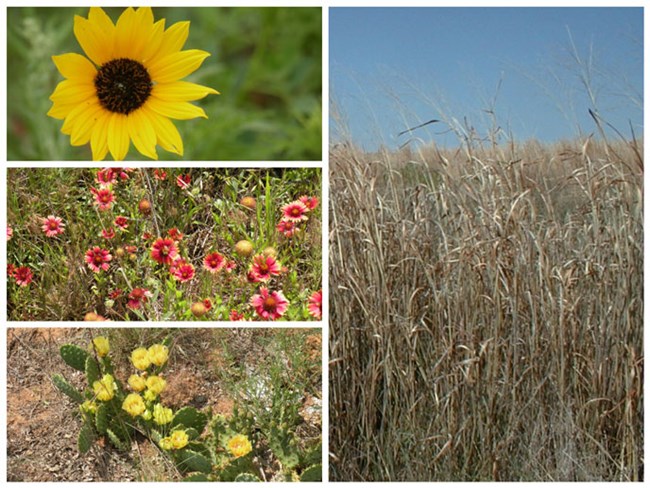 The most obvious inhabitant of Washita Battlefied is the plant community. The park is fortunate to be located in an ecoregion that straddles both tall and short grass prairie ecosystems. In addition, it is also a meeting ground for arid southwestern species and plants from the eastern deciduus forests. Hence, once can find Great Plains Yucca and Prickly Pear Cactus growing in a very close proximity to American Elm, Eastern Redcedar, and Black Walnut.
The most prominent plant species at the site are the grasses, particularly Little Bluestem, Switchgrass, and Indiangrass. These native bunchgrasses, when growing over large swaths of ground, ripple like ocean waves as afternoon breezes pass through.
Lending color to the grass palatte are numerous wildflowers, which create unexpected splotches of color here and there throughout the landscape. Depending on the season one will be certain to spy Heather Aster, Silver Golden Aster, Indian Blanket, Prairie Sunflower, Ohio Spiderwort, or Silky Prairie Clover. Adding to the color in the fall months, when the Little Bluestem turns a resplendent rust color, are the deep red of the Smooth Sumac and the bright yellow of the eastern cottonwood.
So, which plants are you most interested in?


Last updated: March 25, 2015