September 1868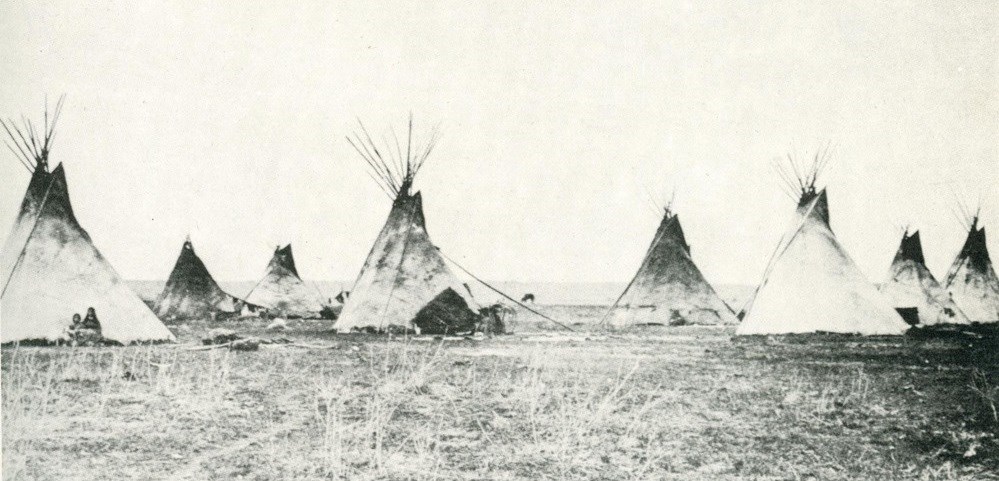 September 10th, 1868
Cheyenne and Arapaho raids continued throughout Kansas in August and September of 1868; General Phillip Sheridan estimated as many as 110 white citizens had been killed since the first raids in early August. He was determined to inflict punishment on those responsible for the raids by attacking the heart of their villages in Indian Territory (present day Oklahoma). To lead an expedition, he chose Lieutenant Colonel Alfred Sully to lead 500 soldiers of the 7
th
Cavalry under Major Joel Elliott and one company of infantry under Captain John Page.
From September 10
th
-13
th
, a series of fruitless skirmishes with the Dog Soldiers in Indian Territory convinced Sully that the effort to strike at their villages was useless. Part of the problem was that the terrain was simply not conducive to Sully's plans. As he put it on September 14
th
,
"the Indians had every advantage of attacking, or retreating, at their option, [and continuing] would only result in wearing out my stock"
. Another factor that Sully reported was that his men were reportedly low on rations and other supplies. Major Joel Elliott, however, wrote more bluntly on the short lived campaign:
"I had the honor to command the cavalry on that expedition and if it was fighting, then Indian wars must be a huge joke."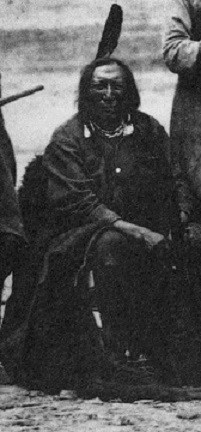 September 17th, 1868
The great Cheyenne warrior Roman Nose met his fate at the Battle of Beecher's Island in Colorado Territory on September 17
th
, 1868. Before going into battle, he reportedly ate fry bread that a Cheyenne woman made with metal utensils - using metal utensils in any fashion was one of the things that took away his invincibility. Before this event, bullets had never harmed him. Roman Nose himself sensed his fate when he learned the fry bread he ate had been tainted by metal utensils. He said, before going into battle,
"It is against my medicine…A woman has used metal to turn fry bread in my lodge. I have had no time to renew myself with a ceremony."
He was urged to join the attack, even though he was not wearing his war outfit. At his friends urging he did so, and it was in a charge in which hidden soldiers cut him down with gunfire. When asked if he was still alive, he said
"Yes...but I am wounded badly. There is no way for you to take me away. I would rather see you stay back. One of you may be killed."
His friends attempted to pull him with a rope out of the line of fire, but the great warrior eventually died. The Battle of Beecher's Island ended after a few days, indecisive; except for the death of Roman Nose.
September 24th, 1868
Lt. Colonel George Armstrong Custer spent his most of his time at home during his court martial sentence, occupying it by writing. However, with two months of his sentence remaining, he must have been surprised to receive a telegram from General Phillip Sheridan that read:
Sheridan to Custer, September 24, 1868, from Fort Hays, Kansas:
Generals Sherman, Sully and myself, and nearly all the officers of your regiment have asked for you, and I hope the application will be successful. Can you come at once?
There was no question what Custer's response was. He immediately made his way out west once again. His court martial sentence was commuted to bring the "boy general" back into field command of the 7
th
Cavalry.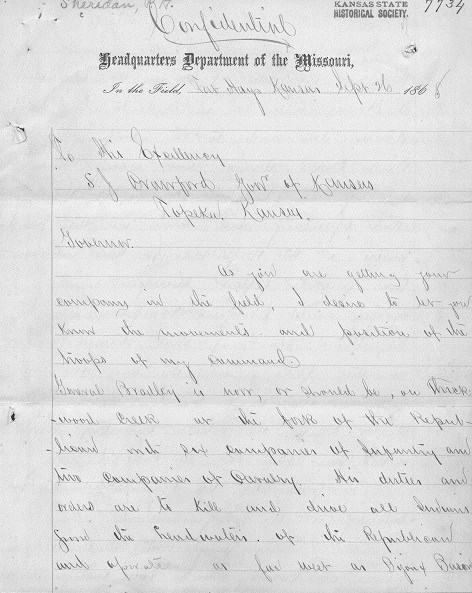 September 26th, 1868
On September 26
th
General Phillip Sheridan began cementing plans for his winter campaign against the Cheyenne. He wrote a letter to the Governor of Kansas formulating his plans:

Sheridan
Confidential
Headquarters Department of the Missouri,
In the Field, Fort Hays Kansas Sept. 26 1868
To His Excellency
S.J. Crawford. Govr of Kansas
Topeka. Kansas.
Governor.
As you are getting your company in the field, I desire to let you know the movements and position of the troops of my command.
General Bradley is now, or should be, on Thickwood Creek at the fork of the Republican with six companies of Infantry and two companies of Cavalry. His duties and orders are to kill and drive all Indian from the headwaters of the Republican and operate as far west as Byou & Bus.
What I want now, and what the people of your State want, is to chastise the Indians so that they will not again be troubled with murders and marauding. This can only be accomplished by killing as many as we can, by destroying their stock, hanging the ring-leaders, and by making them poor.
They are now rich; there is scarcely a lodge but what has from twenty (20) to two hundred (200) ponies, besides other stock and valuables.

I am Sir very
respectfully
P.H. Sheridan
[XXXXX] Genl
Last updated: June 20, 2018