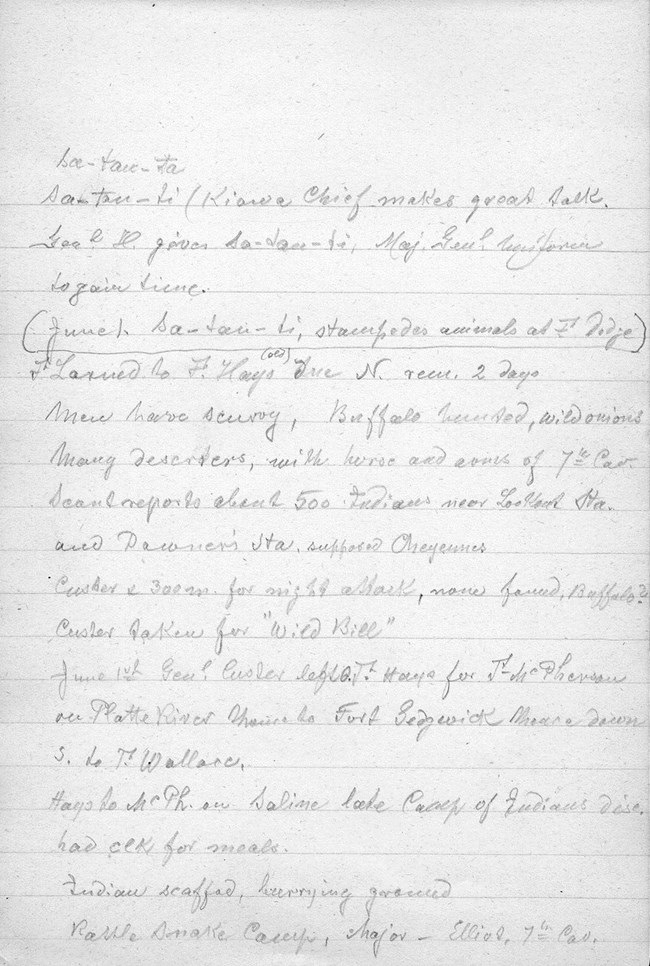 June 1st, 1867

After a long delay at Fort Hays in the spring of 1867, Lt Colonel George Armstrong Custer finally set out to find Cheyennes warriors and other Dog Soldiers on June 1st. Custer's delay was caused by a host of excuses, possibly to prevent any wrath from his superior, General Winfield Hancock. For example, spring storms had inundated the plains, desertions ran high in the 7th, and scurvy was rampant. On a personal level, Custer's wife Libbie had arrived for a visit - possibly affecting Custer's commitment to move out (and leave her behind).

A soldier with Hancock's expedition left several notes on these events in early June of 1867. With the elaborate name of Carl Julius Adolph Hunnius, he provided an enlisted man's view of what was going on at the time. He mentions some of the challenges Custer faced, such as scurvy and high desertion rates. His mention of Kiowa chief Satanta is mentioned as "June 1 - Sa-tan-ta; stampedes animals at Ft. Dodge". This is verified also from other reports from the time as well. Although disjointed, his notes provide a valuable window into the events of early June, 1867.

Transcriptions:
Sa-tan-ta (Kiowa Chief makes great talk. Genl H given Sa-tan-ta , Maj. Genl [XXX] [XXXX] to gain [time].
(June 1 - Sa-tan-ta; stampedes animals at Ft. Dodge) Ft. Larned & Ft. Hays (old) due N. [XXX] 2 days. Men have scurvy, Buffalo [hunted] , wild onions, many Deserters , with horse and each of 7th Cav. Scouts reports about 500 Indians near [XXXX] Sta. and [Dawner's] Sta. Supposed Cheyennes.
Custer 300 m. for night attack, none found Buffalo? Custer taken for "Wild Bill".
June 1st Genl Custer left Ft. Hays for Ft. McPherson on Platte River then to Fort Sedgwick [XXXX] down S. to Ft. Wallace.
Hays to McPherson Saline take Camp of Indians [disc] had Elk for meals.
Indian scoffed, hurrying ground. Rattle Snake [XXX], Major - Elliott, 7th Cav.