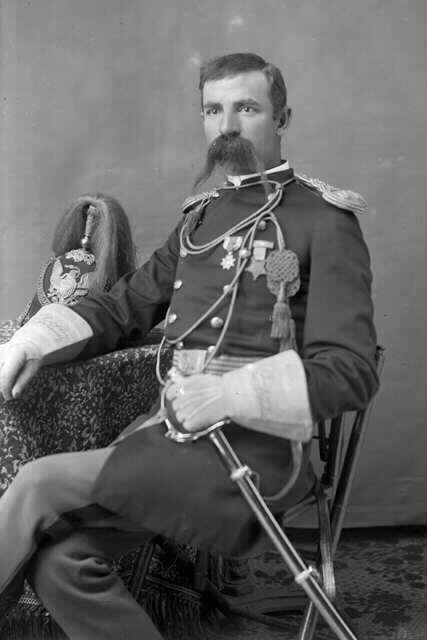 Born on October 9, 1843 in Kalida, Putnum County, Ohio Edward Settle Godfrey attended Vermillion Institute, Harpsville, Ohio. In April 1861, he enlisted in Company D, 21st Ohio Infantry, and fought in July action at Scary Creek, Virginia. After being discharged in August of that year, Godfrey won appointment to West Point in 1863 and was commissioned a second lieutenant in the Seventh Cavalry upon his graduation in 1867. On June 15, 1869, Godfrey married Mary J. Pocock in Harperville, Ohio. The couple had four children.

Godfrey's career with the Seventh Cavalry would span twenty-five years. Godfrey became the only officer of the Seventh Cavalry to see action in all major engagement with the Plains Indians. This list includes the Washita (1868), the Yellowstone Expedition (1873), the Black Hills expedition (1874), the Battle of the Little Bighorn (1876), and Wounded Knee (1890). After the Battle of the Little Bighorn Godfrey was promoted to Captain due to the many officer deaths. During the Nez Perce campaign of 1877 he was severely wounded while leading his men in action, earning him a Medal of Honor and a brevet to Major.

Appointed major of the First Cavalry in 1896, the following year he was transferred back to the Seventh Cavalry. Godfrey remained with the regiment until 1901, when he was appointed lieutenant colonel of the Twelfth Cavalry following service in Cuba. That same year he was promoted to colonel of the Ninth Cavalry and commanded the regiment in the Philippines. Godfrey ended his forty-year military career in 1907 as brigadier general in command of the Department of the Missouri.
Godrey died on April 1, 1932 in Cookstown, New Jersey, and was buried in Arlington National Cemetery.


Bibliography

Greene, Jerome A. Washita: The U.S. Army and the Southern Cheyennes, 1867-1869.
Norman: University of Oklahoma Press, 2004. (pgs 67, 80, 90, 113, 117, 121-24, 127, 134, 137, 187, 189, 196, 200, 204-5, 242)

Hardoff, Richard. Washita memories: eyewitness views of Custer's attack on Black Kettle's village.
Norman: University of Oklahoma Press, 2008. (pgs 129-150)