California Joe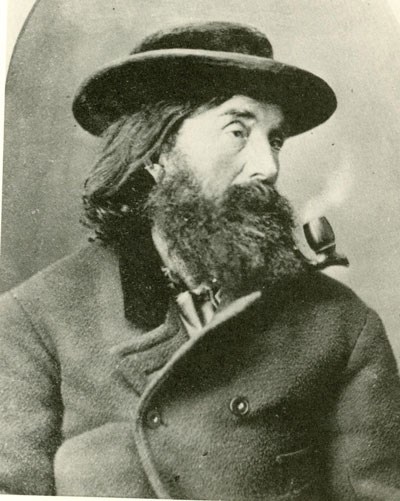 Moses Embree "California Joe" Milner was born in Stanford, Kentucky, on May 8, 1829. He departed home at the age of fourteen to head west and become a mountain man. His army service began during the Mexican War years of 1846-1848, when he scouted for Kearny and Colonel Alexander W. Doniphan, commander of the Missouri Mounted Volunteers, in New Mexico and Chihuahua. He reportedly was captured by Utes in 1849 but soon escaped. Milner returned home in 1850 and married thirteen-year-old Nancy Watts with whom he had four children. The couple honeymooned by crossing nearly 2,000 miles of prairie and mountains in a wagon trip to prospect for gold in California. He was moderately successful, and in 1853, established a cattle ranch in Oregon.
Domestic life, however, did not suit Milner, and he was soon off adventuring. He prospected in Idaho and Montana, and traveled throughout the southern plains. During this time it was said he killed several men—one claim jumper in Bannack, Montana; another in Virginia for kicking Milner's dog; and one in Texas.
At one point, Milner hired on as a scout and guide for the US Army. He served briefly as a chief scout for Lieutenant Colonel George A. Custer on General Winfield S. Hancock's expedition of 1867, becoming a good friend of fellow scout James Butler "Wild Bill" Hickok, but was demoted to common scout after a bout with the whiskey bottle. He was hired once again to scout for the Sheridan-Custer winter campaign of 1868-69. After the Battle of the Washita, Milner and Jack Corbin traveled 100 miles in two days through hostile territory to report the results to General Phillip Sheridan at Camp Supply.
The overly talkative, humorous Milner, who rode a mule and sported a briar pipe between his tangled red whiskers, became a favorite of Custer during his tenure with the 7th US Cavalry.
In the early 1870s, Milner returned to prospecting, ran a cattle ranch near Picoche, Nevada, scouted for the Jenny expedition of 1875, then remained in the Black Hills near Rapid City to prospect. He was working for General George Crook's 5th US Cavalry when on October 29, 1876, he was murdered—shot in the back by Thomas Newcomb, a man with whom he had quarreled, perhaps over Milner's public statement that gamblers had arranged the death of his friend Hickok three months earlier.
"California Joe" Milner, one of the most colorful characters on the frontier, was buried with full military honors in the post cemetery.


Bibliography

Greene, Jerome A. Washita: The U.S. Army and the Southern Cheyennes, 1867-1869.
Norman: University of Oklahoma Press, 2004. (pgs. 94, 128, 138, 162)

Hardorff, Richard. Washita Memories: Eyewitness Views of Custer's Attack on Black Kettle's Village.
Norman: University of Oklahoma Press, 2008. (pgs. 227, 383)

Milner, Joe E. California Joe: Noted Scout and Indian Fighter.
Lincoln: University of Nebraska Press, 1987.
Last updated: August 7, 2020