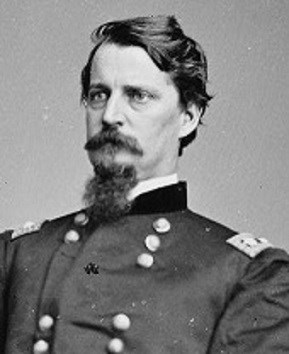 April 17th, 1867

Conflict on the Southern Plains between Native Americans and the U.S. Army had been occurring for years. The Sand Creek Massacre in 1864 had resulted in the death of many innocent Cheyenne women and children, and likewise retaliatory attacks by Cheyenne "Dog Soldiers" had caused havoc on homesteads in Colorado and Kansas. To create a greater understanding of the Battle of the Washita that later occurred in 1868, it is important to analyze the events that led up to it.
In the spring of 1867, in response to Dog Soldier attacks on the frontier, General Winfield Hancock led 1,400 soldiers in a campaign of intimidation. The goal was to intimidate the Dog Soldiers, a fierce band of warriors mainly comprising Cheyennes but also other groups including Arapaho and Lakota. The Dog Soldiers had been raiding the Great Plains in retaliation for the Sand Creek Massacre that occurred in 1864. Included in Hancock's expedition was George Armstrong Custer and the 7th cavalry.

Hancock's expedition set out in April for western Kansas, and began on a rocky note from the start. Meeting first with Dog Soldier chiefs on April 12th, Hancock demanded they cease hostilities. On April 14th, many Cheyenne and Lakota women and children in nearby villages escaped, fearing another massacre such as that that had occurred at Sand Creek in 1864.

On April 15th, Lt Colonel George Armstrong Custer and his 7th Cavalry were ordered to pursue the fleeing Cheyennes and Lakotas. While in their villages they heard word of the 7th Cavalry approaching, causing a panic. Chief Roman Nose ordered his people to remain silent, and the Cheyenne used the undulating terrain of the region to conceal their movements, resulting in a fruitless pursuit for Custer. Furthermore, the Cheyennes had skillfully used the waterways like a highway to outmaneuver the enemy.

For General Hancock, his expedition seemed doomed from the start. Fighting an enemy they poorly understood, in a region they were not familiar, coming to grips with the Dog Soldiers would prove a daunting task.