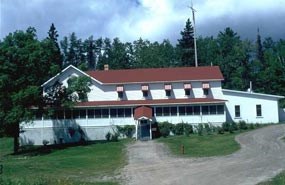 A Colorful History
The history of Kettle Falls is as colorful as the red roof on the hotel. Constructed by timber cruiser Ed Rose and reputedly financed by Madame Nellie Bly, the Kettle Falls Hotel has accommodated and entertained travelers since 1913. Robert Williams bought the hotel in 1918 for $1,000 and four barrels of whiskey. From its somewhat scandalous past, grew a long tradition of hearty home cooking and hospitality served by the Williams family. This historic hotel was renovated by the National Park Service in 1987 so you, too, can enjoy a hearty meal, relax on the veranda or spend the night.
For more information, join a ranger for a Kettle Falls Dam tour or download the Kettle Falls Gazette.
Kettle Falls Hotel is the only lodging within Voyageurs and is only accessible by water. For lodging information at the Kettle Falls Hotel, view the hotel web site. For other nearby lodging options, look inside the park newspaper, the Rendezvous.