Water Quality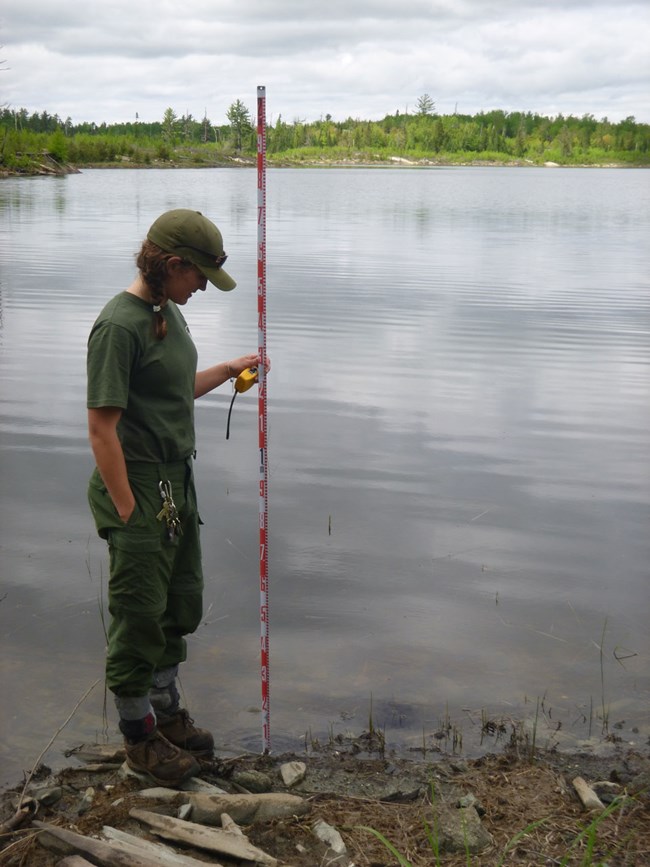 Water quality is monitored throughout the open water season on Rainy Lake and the lakes of Namakan Reservoir. Water quality is also monitored on nine interior lakes (lakes upstream of Namakan Reservoir and/or Rainy Lake) three times per summer by the NPS Great Lakes Inventory and Monitoring Network. The data generated through these programs are used for a variety of purposes including: assessing the effects of artificial lake level management, informing lake management, assisting partner agencies with estimation of fish yields for lakes, and providing data required for partner agencies to assess lakes for impairment.
The Aquatics Program has been working to assess the effects of artificial lake level management on the aquatic ecosystems of Voyageurs National Park lakes for decades. Recently, journal articles have been published summarizing the effects of water level fluctuations in Rainy Lake and Namakan Reservoir on trophic state, fish mercury concentrations, and Walleye and Yellow Perch production. The Program also provided project management for a suite of studies of the effects of lake level management funded by the
International Joint Commission (IJC)
. The studies were designed to provide information on the effects of artificial lake level management on hydrology, cultural resources, economic indicators, and on many ecological indicators including fish spawning habitat, wetland vegetation, benthic macroinvertebrate communities, marsh nesting birds, and aquatic furbearers. These projects were carried out over a six year period. The results of these studies and of the
Aquatics Program
lake levels research described above are being used in an ongoing IJC review of the current rules governing dam operation on Rainy Lake and Namakan Reservoir.
Last updated: May 6, 2020