Volunteer Opportunities at Voyageurs National Park
Date:
November 20, 2013
Contact:
Tawnya Schoewe
, 218-283-6670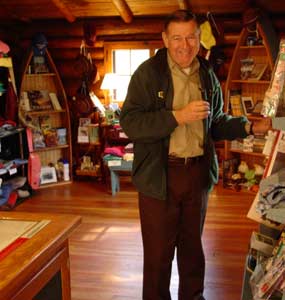 INTERNATIONAL FALLS, MN: Every year, volunteers at Voyageurs National Park donate nearly 10,000 hours. The park greatly benefits from its dedicated supporters. Volunteers operate visitor centers, tend the ethno-botanical garden, and help with many other projects. The park is seeking area residents to assist with the following opportunities:
Immediate Needs:
Rainy Lake Visitor Center Volunteer (Rainy Lake): Meet visitors, provide information, and assist with staffing a visitor center.
Headquarters Volunteer (International Falls): Assist with different projects from data entry, to information requests, to brochures.
Website Assistant (International Falls): Assist with updating web information, layout design, and page development.
Summer 2014 Needs:
Kabetogama Lake or Ash River Visitor Center Volunteers: Meet visitors, provide information, and assist with staffing a visitor center.
Voyageur Tour Boat Deckhand Volunteer (Rainy Lake): Help run the park's 49-passenger vessel, the Voyageur, a USCS approved tour boat vessel: prepare boat for tours, secure lines during docking and undocking, be trained on boat safety procedures.
Ethno-Botanical Garden Volunteer (Rainy Lake): Learn local botany, tend native plants, and remove invasive weeds.
Training will be provided for all opportunities. Positions with public contact are required to wear a uniform. Hours are flexible, generally a few hours a week. Some positions require a background check for government clearance. More detailed information can be found on the park's website: http://www.nps.gov/voya/supportyourpark/
Interested people are encouraged to contact Chris Amidon, the park's volunteer program coordinator at: (218) 283-6636.
About the National Park Service. More than 20,000 National Park Service employees care for America's 401 national parks and work with communities across the nation to help preserve local history and create close-to-home recreational opportunities. Learn more at www.nps.gov.