About Bald Eagle Closures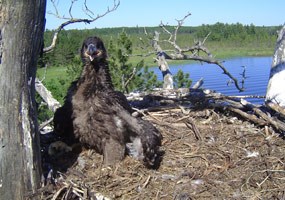 PROTECTED BALD EAGLE NESTING AREAS IN VOYAGEURS NATIONAL PARK

In early May, the park temporarily closes areas around the park's active bald eagle nesting sites to campers and other human activities. In mid-August the areas are reopened after the young eaglets fledge.
During the summer, Voyageurs National Park biologists and research scientists monitor the productivity and breeding success of the Park's bald eagle breeding population.
Each year since 1992, the park has temporarily closed the land and water areas around active bald eagle nests to visitor use during their critical nesting periods. The park is obligated to follow the conservation management actions of the Bald Eagle and Golden Eagle Management Act. The closures have been based on recommendations of bald eagle researchers from across the U.S. within wildlife management agencies.
People play a very important role in protecting nesting eagles and other birds. Superintendent Mike Ward said, "We appreciate the cooperation of our visitors in helping us manage and protect our bald eagle breeding population. There has been a steady increase in active nesting pairs in VNP during the past breeding seasons. That trend along with an increase in the number of young fledged annually in the park is good news for the eagles."
Learn more about eagle banding
Last updated: February 3, 2016