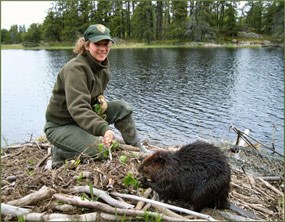 Beaver Ecology Project, Voyageurs National Park, 2004-2009
Beavers (Castor canadensis), America's largest rodent, require water to access food and provide an underwater, predator-proof entrance to their lodges. Beavers are perhaps best known for building dams on streams to create ponds with relatively stable water conditions that they desire.

Beavers also live and build lodges in lake environments, such as those that dominate the landscape in Voyageurs National Park. Beavers do not build dams in lakes but instead are subject to natural fluctuations that lakes experience over the course of a year. In the case of the large lakes in Voyageurs National Park, beavers are also subject to unnatural fluctuations that the lakes experience as a result of the manmade dams at International Falls and Kettle Falls. Water levels managed primarily for humans can have dramatic effects on beavers, especially when water levels are drawn down over the winter, a critical period for beaver survival and reproduction.
Biologists from Voyageurs National Park have been studying the effects of artificial water level management on aspects of beaver ecology since 2006. Since then, nearly 500 individual beavers have been live-trapped and affixed with uniquely numbered ear tags. Each beaver was carefully measured and weighed to assess body condition (i.e., how fat and healthy are they), age, and sex. Ninety-eight (98) of these beavers were also outfitted with radio transmitters to monitor behavior and survival in relation to winter drawdowns. Results from this research will be used to evaluate water level management strategies put in place in 2000 to reduce negative impacts to Voyageurs National Park aquatic ecosystems.
For more information contact:
Dr. Steve Windels
Terrestrial Ecologist Voyageurs National Park
e-mail us
Phone: 218-283-6692