Managing for Healthy Aquatic Ecosystems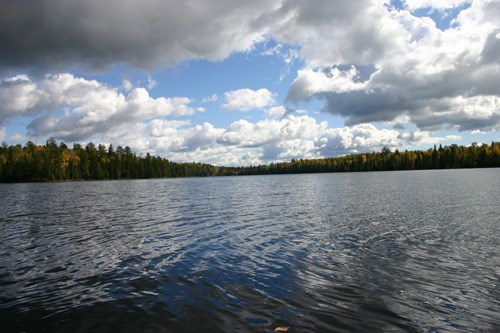 Background
Ecosystems that are functioning in a healthy manner provide many benefits. In a healthy ecosystem, an assemblage of native species is present and natural processes are intact and functioning. At times, however, impacts occur that negatively affect an ecosystem and those who rely on it. Informed, science-based management can mitigate these effects.
The following are examples of services1 that healthy ecosystems provide to human populations:
Supporting: nutrient recycling, primary production, and soil formation

Provisioning: raw materials, food, water, and medicinal resources

Regulating: climate regulation, disease regulation, and purification of water and air

Cultural: spiritual enrichment, recreation, and educational opportunities
Importance of Restoring Impaired Aquatic Ecosystems
Voyageurs National Park is a water based park, attracting over a quarter of a million visitors per year to fish, swim, and boat (Figure 1). The National Park Service mission to maintain resources unimpaired for future generations guides management actions. Ecosystems that are impaired are not able to function properly nor are they able to fully provide their valuable services. For these reasons, maintaining the health of Voyageurs National Park aquatic ecosystems and restoring any which are impaired is a high priority.
Resource managers require an understanding of the threats and negative impacts to these aquatic resources in order to design and enact management policies that will best protect or restore the ecosystems. The threats to these ecosystems are diverse and include climate change, invasive species, artificial lake level management, and contaminants.
One contaminant, mercury, is particularly problematic at Voyageurs National Park. The lakes of Voyageurs National Park are impaired by mercury contamination (U.S. Environmental Protection Agency). Mercury concentrations in the fish within these lakes are high enough to require consumption guidelines for the protection of human health. Mercury concentrations in some fish and wildlife from these lakes are above thresholds shown to impair fish reproductive and neurological health2 and to have negative impacts on wildlife health (Figure 2). Restoration of these ecosystems would improve fish and wildlife health and reduce a health risk for people who consume fish. For people who consume fish from Minnesota lakes on a regular basis, the state Department of Health offers safety information about eating fish that may be impacted by external factors in aquatic ecosystems.
Because the negative consequences of mercury contamination are substantial, regulations governing mercury emissions have been put in place in the United States. Levels of mercury pollution deposited in precipitation have decreased over time in northern Minnesota after establishment of emissions controls3,4; this indicates that progress is being made toward restoring these systems, however, continued assessment and restoration is needed since the lakes of Voyageurs National Park remain impaired by mercury.
Research and Management
Resource managers are working to maintain healthy aquatic ecosystems in order to meet the National Park Service mission and to ensure memorable, educational, and safe experiences for visitors. The National Park Service is collaborating with partner agencies to evaluate data covering water quality, fish, common loons, and many other components of aquatic ecosystems in Voyageurs National Park. This collaboration includes two ongoing assessments: one assessment is focused on the condition of the ecosystems of the smaller lakes of the park (undammed, natural lakes); and the other assessment is focused on the impacts of artificial lake level management on Rainy, Kabetogama, Namakan, and Sand Point lakes (the large natural lakes of the park which were dammed in the early 1900s). Both assessments will be used to support management of aquatic ecosystems within Voyageurs National Park.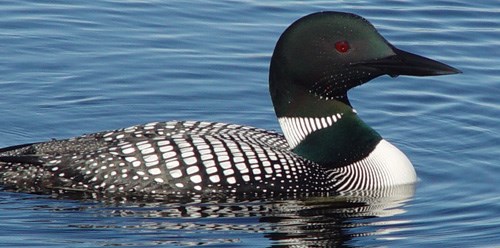 As part of the ongoing assessments, stressors and negative impacts to the lakes including climate change, invasive species, artificial lake level management, and contaminants are being considered by resource managers so that current and future impacts to these systems are better understood.
These efforts will help clarify which stressors are impacting the aquatic ecosystems and in some cases will clarify the degree to which the stressors are affecting the systems. Because the resulting assessment information will allow resource managers to account for these influences in their science-based management actions, it is more likely that unintended consequences will be avoided and that the actions will be successful.
Outlook
The results of the assessments of Voyageurs National Park lakes will allow resource managers to provide improved management for healthier lake ecosystems and fisheries. Using information provided through scientific assessment of data collected on these aquatic ecosystems, it may be possible to mitigate the negative impacts of some stressors, to prevent some negative impacts from occurring in the future, and to restore some negatively impacted portions of these ecosystems.
Ultimately, resource managers will employ management and restoration strategies designed to maintain healthy, functional aquatic ecosystems and to restore impacted ecosystems at Voyageurs National Park. The restoration and preservation of these ecosystems will not only conserve the intrinsic value of the aquatic resources and the services that they will provide for future enjoyment, but also will provide the opportunity for enhancement of visitor experiences.
References
1 Millennium Ecosystem Assessment. 2005. Ecosystems and Human Well-being: Synthesis. Island Press, Washington, DC. 155p.
2 Sandheinrich, M.B., and Wiener, J.G. 2011. Methylmercury in freshwater fish: Recent advances in assessing toxicity of environmentally relevant exposures, in Beyer, W.N., and Meador, J.P.,eds.,Environmental Contaminants in Biota: Interpreting Tissue Concentrations, 2nd edition, Boca Raton, Florida, U.S.A., Taylor and Francis Publishers.
3 Engstrom, D.R., Balogh, S.J., and Swain, E.B. 2007. History of mercury inputs to Minnesota lakes: Influences of watershed disturbance and localized atmospheric deposition. Limnology and Oceanography. 52:2467-2483.
4 Brigham, M.E., Sandheinrich, M.B., Gay, D.A., Maki, R.P., Krabbenhoft, D.P., and Wiener, J.G. 2014. Lacustrine Response to Decreasing Wet Mercury Deposition Rates - Results from a Case Study in Northern Minnesota. Environmental Science &Technology. 48:6115-6123.
Last updated: March 28, 2019