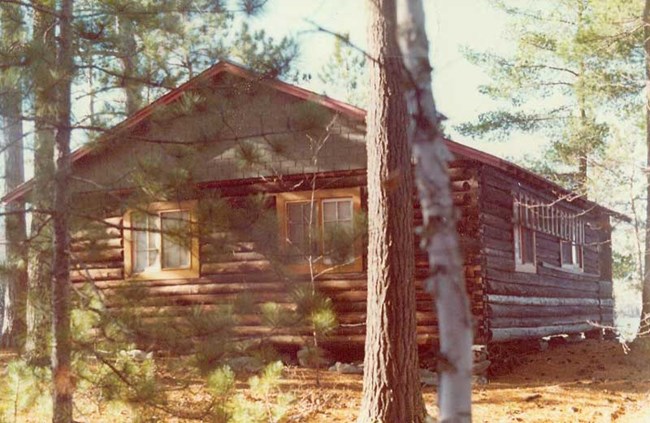 Tourism and Recreation
The Minnesota wilderness attracted health seekers and vacationers. Recreational fishermen and hunters had visited the area throughout the 1800s, and beginning in the 1880s, summer homes and resorts were developed that catered to wealthy tourists.

Rainy Lake was one of the first areas in the region to be developed. It featured exquisite summer homes owned by prominent businessmen from distant cities. Owners built their homes on islands and peninsulas, accessible solely by water transportation. The wealthy members of this elite community became known as the "Rainy Lake Aristocracy." Their summer homes were used to entertain friends and business associates, relocating the social cliques and social stratification from the city to their properties in the wilderness.

Despite early interest in touring the Voyageurs National Park area, its inaccessibility kept the volume of recreational travel comparatively low during the late nineteenth and early twentieth centuries. Travel was chiefly by water, confining all but the hardiest tourists to the summer months. Summer travel was over waterways, canoe portages, and a few tote roads built by early loggers. Eventually steamboats connected Kettle Falls to Rainy Lake City and Crane Lake. The first seasonal lodging on this route was the Kettle Falls Hotel, built at Kettle Falls in 1910.

By the time Voyageurs National Park was established in 1975, over 60 resorts, 97 leased cabin sites, and over 120 privately owned recreational properties were located within the park's boundaries.

Many people sold their property to the U.S. government when the park was established. Some people chose to sell their property and leave immediately, while others chose to sell their property, but maintain use for either a lifetime tenancy or a 25-year use and occupancy reservation. As these properties are vacated, the park will remove many structures to restore natural conditions. Twenty properties, containing over 50 structures, will be retained and managed by the National Park Service because of their historic significance.

Interested in learning more?