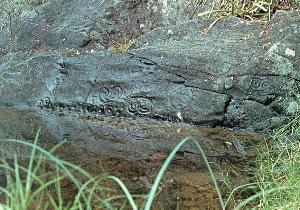 Reef Bay Trail (Not available until early 2019)
Step back in time while experiencing a moist tropical forest as you hike down the verdant Reef Bay Valley. Along the way, you will have the opportunity to learn about the people who have called St John home and about their relationship to the natural world.
Sugar plantation ruins, stone walls from cattle grazing, and ancient rock carvings left behind by the pre-Colombian Taino can be found along the trail. This evidence from the past is a reminder of changes over time on the island.
The oldest and tallest trees on the island can be found in this valley, creating a canopy of shade for hikers and a habitat for a variety of wildlife. Throughout time, people survived using vines, trees, flowers and fruits that are now preserved and protected for future generations.