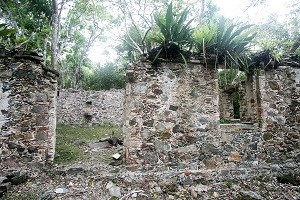 Ranger-Guided Hikes
L'Esperance Hike (November through April)
Follow this historic Danish road to explore the ruins of the earliest plantations established on St. John. Learn about the amazing adaptations that emerged from the struggle for survival, both for the early settlers on the island and the wildlife that has a home here.
View the island's only baobab, a sacred tree species that was brought to the Caribbean by enslaved Africans. Further along the trail, a lush grove of fragrant Bay Rum trees provides a glimpse at the industry that once made St. John world-famous.
As you descend towards the beach you will enjoy beautiful views of Reef Bay and experience the fascinating transition from shady tropical forest to a desert-like landscape.