Places To Go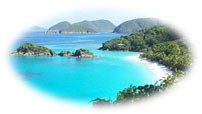 Hawksnest Beach
Hawksnest offers great snorkeling with three small reefs of Elkhorn corals and lots of small fish. Amenities include changing rooms, picnic tables, grills, restrooms and accessible paths and beach ramps.
Trunk Bay Beach
Trunk Bay is considered one of the most beautiful beaches in the world. It features a 225-yard long underwater snorkeling trail and .3 miles of beach to walk on and accessible paths and beach ramps. Amenities include snack shack, bar, snorkel gear rentals, a beach shop, restrooms, and showers.
There is a day-use fee of $5.00 per person. Lifeguards on duty daily.
Cinnamon Bay Beach
One of the longest beaches in Virgin Islands National Park, Cinnamon Bay is now the home of Cinnamon Bay Beach and Campground. This facility offers deluxe eco-tents, platform tent sites, and cottages. Other amenities include breakfast and dinner at the Rain Tree Cafe, souvenirs, clothing, grab-and-go food items and other essentials which are available at the Cinnamon Bay Beach Shop. A watersports center is located on the beach. There are accessible paths through the campground.
Maho Bay Beach
Maho Bay offers .3 miles of beach for your walking enjoyment, and several large seagrass areas perfect for viewing turtles. Amenities include pavilions to rent for your family party or wedding, as well as restrooms at the western end of the beach. There is a large parking area at the eastern end of the beach. Please do not park on or in the vegetation.
Francis Bay Beach
Francis is another great place to view turtles, go for long swims, snorkel along the rock shoreline at the north end of the bay or go for a walk on the ¼-mile long beach.
Amenities include parking, picnic tables, toilets, and a trail around the Francis Bay pond.
---
For the safety of you and the wildlife, please do not touch the coral or sea turtles.
Picnic areas are located on several of the beaches and offer tables and grills.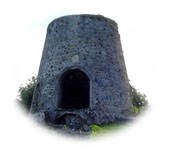 Historic Sites
Annaberg Plantation was largest sugar producing estate on St. John. At the height of Annaberg's production, over 600 enslaved persons lived and worked the plantation. The Leinster Bay waterfront, upon which Annaberg was built, is now part of the National Underground Railroad Network to Freedom. Many enslaved persons living on St. John used the Leinster Bay waterfront to escape to freedom on nearby Tortola of the British Virgin Islands.

At Annaberg, the remains of the windmill and animal mill, used to crush the sugar cane to extract its juice, still stand. Much of the sugar factory, where the juice was boiled and condensed to make raw sugar, remain as well, as does part of the rum still. Docents are available to answer visitor questions about Annaberg's history Monday through Friday from 10:00 a.m. until 2:00 p.m.
Catherineberg, was another sugar plantation and factory is located on Centerline Road overlooking Cinnamon Bay. While part of the national park, it is not as developed as Annaberg. However, much of the windmill and the boiling house remain.
The Reef Bay Sugar Mill can only be reached by hiking. Ranger-led hikes on Mondays and Thursdays take visitors down a 3-mile path through tropical forests to the sugar mill. Reservations are required and there are fees for taxi transportation to the trailhead and boat return to the Visitor Center.


Last updated: April 5, 2022