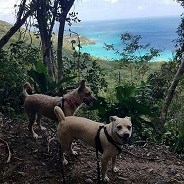 Pets
Service dogs are allowed in Virgin Islands National Park and leashed dogs are allowed on trails.
Title 36 part 2 section 15
of the Code of Federal Regulations provides the rules on dogs.
* Pets are not allowed on beaches.
36CFR 2.15(a)
(1)
This rule is in place to protect nesting sea turtles, shore birds and our visitors on the beach.
* Pets must be on leash no longer than 6' while in the Park.
36CFR 2.15 (a)
(2)
* Pets can not be left unattended and tied to an object. 36CFR 2.15 (a)(3)
* Pet owners are responsible for removing pet waste appropriately. 36CFR 2.15 (a)(5)

To report any dog issues call 1-866-995-8467.