Flowering Plants and Trees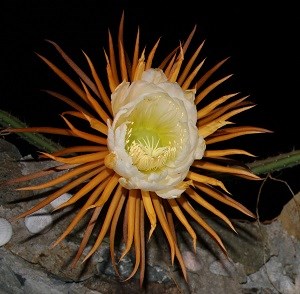 Night blooming cereus (Selenicereus grandiflorus)
The Night-Blooming Cereus cactus has large, beautiful white flowers that open for one night only. Bats and moths have the important job of pollinating these magnificent flowers.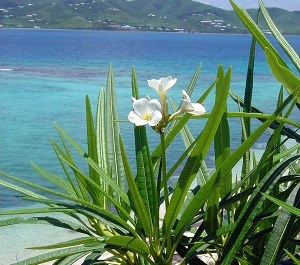 Wild Frangipani (Plumeria alba)
The Frangipani can be found in coastal thickets in the Virgin Islands. The flowers are white with a small yellow center and are extremely fragrant.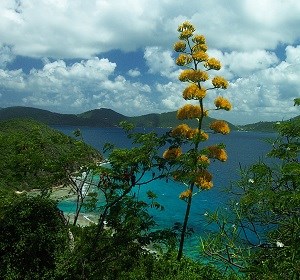 Century plant (Agave missionum)
The Century plant is a large succulent shrub with prickly edged leaves. It produces a tall main stem with branches and many cluster of flowers. In early spring to summer, large bright yellow flowers bloom.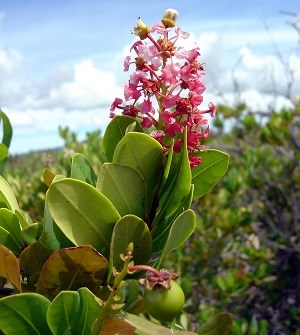 Locustberry (Byrsonima lucida)
The locustberry is a low evergreen shrub and has flowers that turn from white to pink to crimson, making it a showy plant. It has irregular branches and can grow 8-10 feet in good soil. The flowers attract butterflies.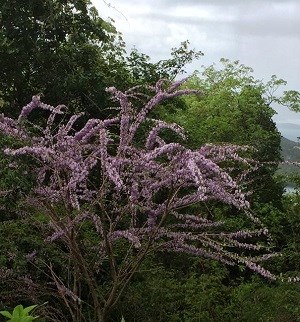 Wattapama (Poitea florida)
This small tree is native only to Puerto Rico and the Virgin Island. The blooms are a glorious lavender purple blooming after strong spring rains.
Solanum conocarpum
The historical record shows the species was previously found in Puerto Rico and in the U.S. Virgin Islands Dry Forest of both St. Thomas and St. John Solanum conocarpum is now only found on St. John. It is a thornless, flowering shrub that may reach more than nine feet in height. Found in dry deciduous forest.The lavender colored blooms attracts bees and humming birds.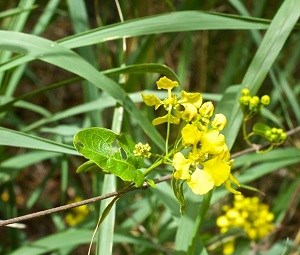 Monarch amazonvine (Stigmaphyllon emarginatum)
Other local names including leather-leaf vine or yellow wiss. This native vine is found in disturbed areas and dry forests. They twine around trees growing up to 30 feet in length and produce flowers throughout the year, with 5 yellow petals.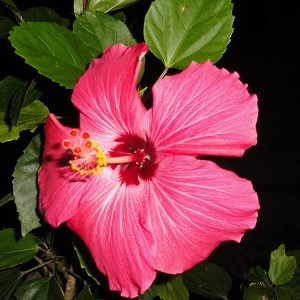 Red Hibiscus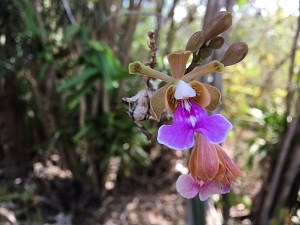 Butterfly Orchid (Psychilis macconnelliae)
The Butterfly orichid is one of the more common of the 12 native orchids found on St. John. The grow in clumps and can be found on the East End. They are very sensitive to environmental changes.
All indigenous orchids are protected.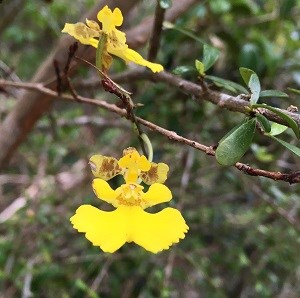 Dancing Lady Orchid (Tolumnia prionochila)
The delicate dancing lady is tpically found in dry to moist scrub forests and often near the sea.
Last updated: August 11, 2017