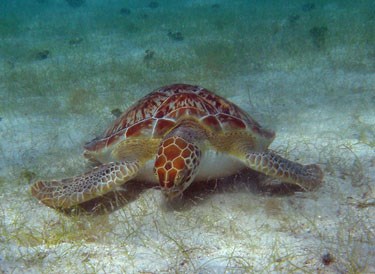 Seagrass beds are important and productive ecosystems in the shallow waters around St. John. Turtle grass, manatee grass, and shoal grass are true flowering plants, spreading primarily through growth of roots and rhizomes. These extensive root systems help to stabilize sediments which reduce shoreline erosion and helps keep the water clear.
Seagrass beds provide habitat for many fish species which find shelter in coral reefs during the day, and feed in seagrass beds at night. Turtles also graze in seagrass meadows as do Queen Conch (Strombas gigas) which feed on algae growing on the grass blades.
Boat anchors and propellers cause great damage to seagrass beds. Anchors can rip out the roots and gouge holes that undermine the surrounding root systems. The area "implodes", and it may take years for these areas to recover, if they recover at all.
Never Anchor in Seagrass or Coral