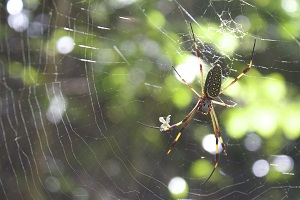 Very few visitors to the Virgin Islands appreciate their unique opportunity to observe and experience a wide variety of insects, spiders, scorpions, and other creepy crawlies that inspire more "Eww" than awe.
These animals pollinate plants; are an important food source for birds, bats, and reptiles; break down fallen wood, which helps prevent wildfire; help control other insect pests; and provide endless opportunity for the enthusiastic observer. Of course, they also bite, sting, wiggle, slither, spread disease, and consume your lunch; so fondness for insects varies.
If you can take time to look away from breathtaking landscape and magnificent ocean panorama, then you might enjoy studying some of our six-, eight-, and ten-legged friends.
Checklist of Insects of the Virgin Islands is an incomplete, but growing, list of our insect life.
Terrestrial Invertebrate Animals of the Virgin Islands National Park (pdf 5mb) by William Muchmore is an annotated and illustrated partial checklist of crustaceans, arachnids, and insects found on our island.