#YCC2017VINP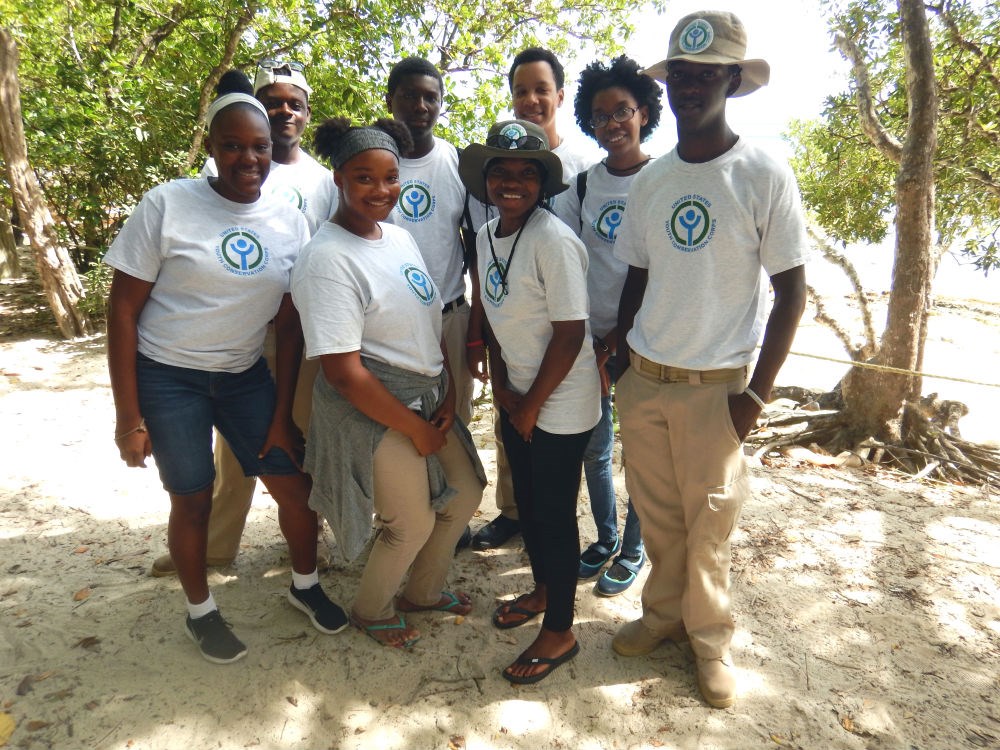 What is YCC?
The Youth Conservation Corps (YCC) is a work-learn-earn program that develops an understanding and appreciation in participating youth of the nation's environment and heritage. It is administered by the U.S. Department of Agriculture (Forest Service), and by the U.S. Department of the Interior (Fish and Wildlife Service and National Park Service). YCC offers gainful summer employment to youth, for approximately eight weeks, in a healthful outdoor atmosphere. YCC members work on a variety of projects including building trails, maintaining fences, cleaning up campgrounds, improving wildlife habitat, and thinning timber stands. Participants do hard physical work and may be exposed to insects, adverse weather, and difficult working conditions.
Continue reading to find out what our YCC team has accomplished and follow them on
Facebook
and
Instagram
. Just look for
#YCC2017VINP
.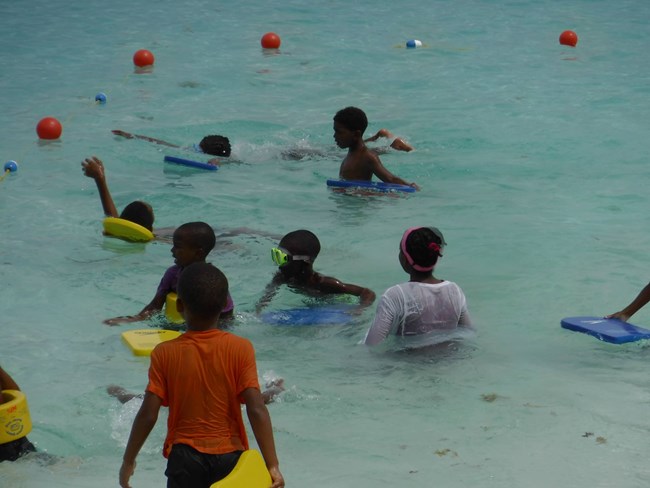 With only two weeks left, we packed a lot into Week 6 for the YCC crew. They started the week off by painting Trunk Bay parking lot with our Roads & Trails team for two days.
A highlight for the group was helping Ranger Laurel teach swimming to the local community kids (through Parks and Recreation). They really enjoyed this experience and said the kids were so cute!
On Thursday, the crew split up to help with two different tasks. Two joined the ranger-led Reef Bay hike to learn about the jobs of interpretive rangers while the rest of the group joined the trail crew to work at Salt Pond.
They finished their busy week by helping the park turtle intern, Adren, monitor a few beaches, snorkel for turtles, and create trash awareness posters.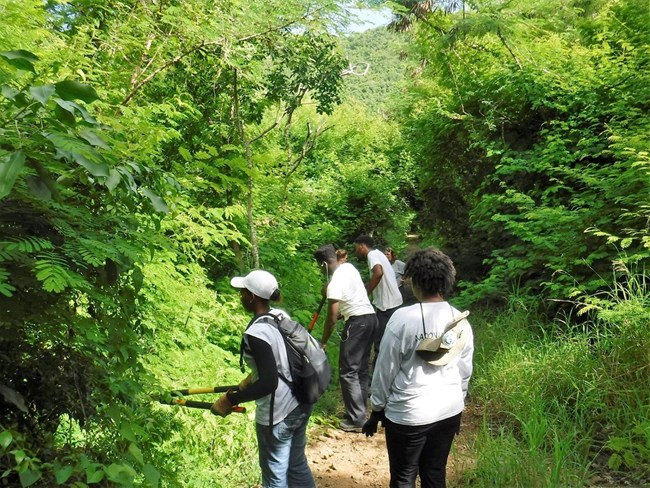 Our YCC Crew's Week 5 was filled with lots of important park maintenance projects.
A highlight for the group was doing maintenance on our parking lot and marina dock by replacing curbs, painting lines, and spray painting words. Many of them told us this was their favorite project of the week!
The crew spent two more days working on the Francis Bay boardwalk. Go take a walk and check out their amazing carpentry skills! We are proud of how much they accomplished on the boardwalk this summer.
To complete the busy week, they teamed up with the Friends of Virgin Islands youth trail crew to do a beach clean-up at Haulover Bay and to trim the Francis Bay Trail.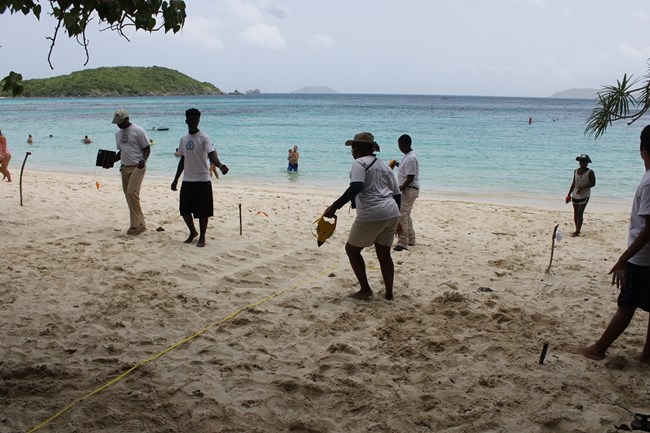 Week 4 for the YCC crew was spent with the park's diverse Resource Management team. They covered buoy maintenance, boating, ecosystems and the many different career opportunities in science and resource management.
They explored the mangroves and learned about the importance of mangroves as nurseries for juvenile fish, aquatic organisms and how the mangroves protect the shorelines from erosion. They also learned them about invasive and exotic species found in the park and how the park manages them. A highlight for them was learning how to identify and monitor turtle nests with the park's turtle intern.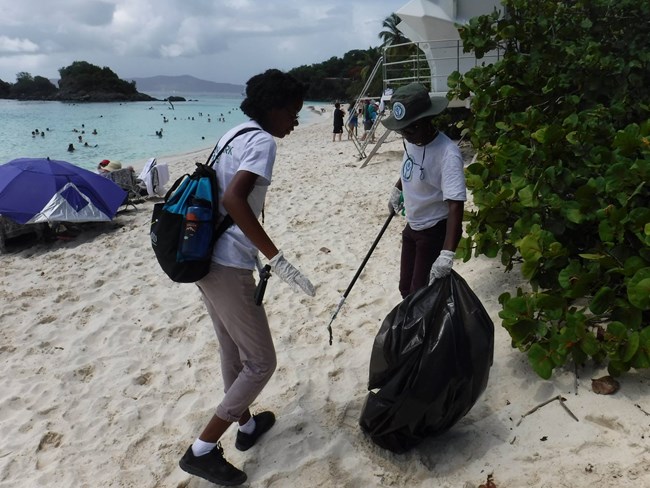 Week 3 for the YCC crew was busy and packed with lots of new experiences! Besides continuing work on the Francis Bay boardwalk for two days, the group spent Wednesday with the park archaeologist learning "Archaeology by Sea" of St. John. This included snorkeling over a shipwreck from 1780!
They also spent even more time on the water by assisting a Law Enforcement ranger with boat safety inspections.
And finally, they completed the week with more snorkeling experience at famous Trunk Bay, along with a much-needed litter pick-up at Trunk Bay and Brown Bay.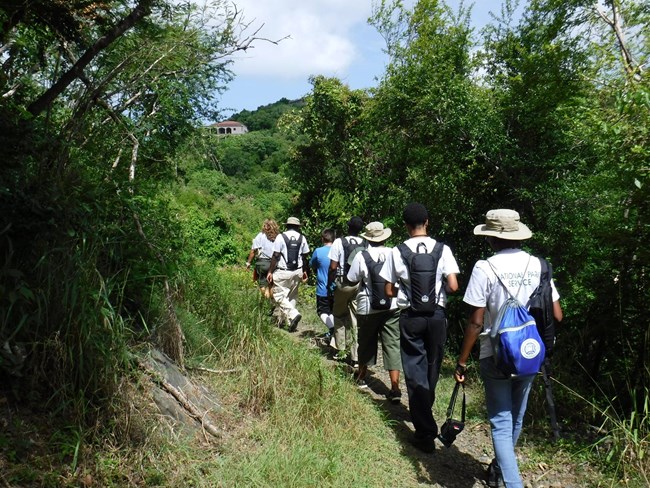 The YCC team enjoyed their first bird walk with Ranger Laurel and saw a yellow warbler, black-necked stilts, a common moorhen, fiddler crabs and a tarantula hawk, sometimes called a tarantula wasp.
They are looking forward to their next bird walk.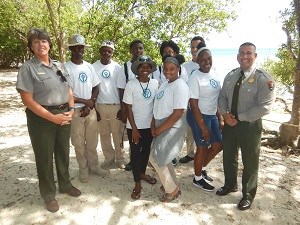 The YCC spent time chatting with the new Caribbean Parks Superintendent Randy Lavasseur and Virgin Islands National Park Deputy Superintendent Jayne Schaeffer. The Superintendent says that youth are one of his top priorities. There are bright futures ahead for these youth!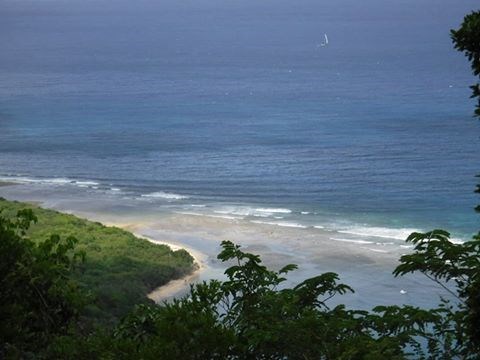 Week 2
The YCC team has accomplished a great deal already in their short time here. Three crew members worked on clearing an overlook to open the ocean view on the L'Esperance Trail. This was done using only hand tools. As you can see from the view, they did a great job!
The other three-person team conducted compliance archaeology at Cinnamon Bay. They performed shovel tests and found pot sherds, lithics (stone artifacts) and fish bones in the test area.
The crew has already proven to be very good photographers. Our staff photographer will be working with them throughout the summer, teaching them new techniques and photography skills.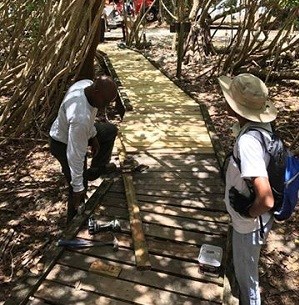 Week 1
The YCC group completed their first week! The first few days were orientation to the park, and then they jumped right in to their first major project. The crew worked hard with the Maintenance division to replace 240 boards on the Francis Bay boardwalk trail. This boardwalk was badly in need of repair and their efforts are greatly appreciated!
During the week, the crew has enjoyed coming up with riddles to stump each other while working. Here's a favorite from this week! Can you figure out the answer?
"I have a bed but do not sleep.
I have a mouth but do not eat.
I run but never walk. What am I?"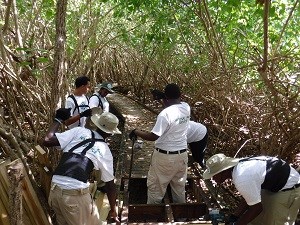 YCC demonstrates team work as they repair the Francis Bay Accessible Boardwalk.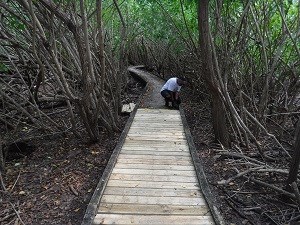 The first section of the boardwalk is looking good!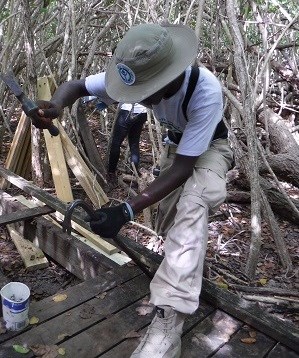 YCC Youth learning new skills as he assists in repairs.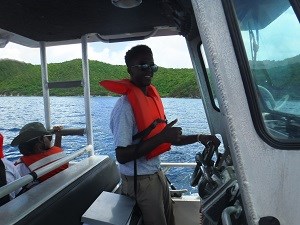 YCC gain new boat handling skills while spending a day on the water with Ranger Meredith.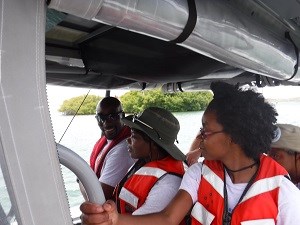 The YCC spend a day on the water with the buoy/dive team learning more boat skills and about maintenance of the more than 300 moorings and buoys.
When you live on an island you can never have enough boat skills.
Photo Galleries of our Accomplishments & Activities.
Last updated: August 15, 2017