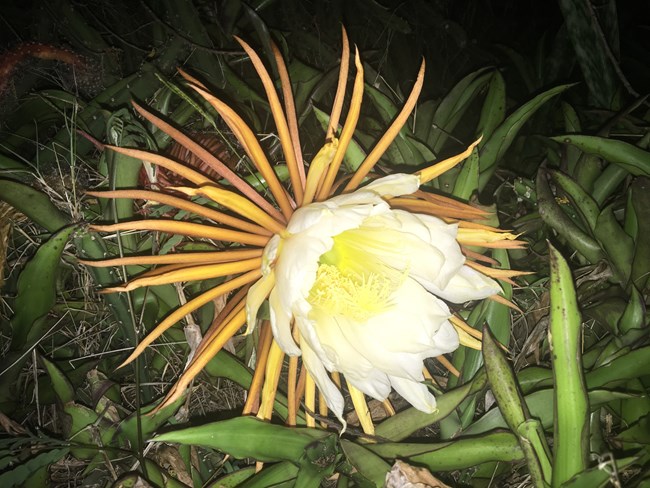 Virgin Islands National Park contains many tracts of undeveloped forests. According to the Conservation Data Center of the University of the Virgin Islands, the forest types of St. John can be broken down into the followinig categories: dry tropical, moist tropical, shrubland cover, woodland cover, herbaceous community, wetland community, and sparse vegetation. Many factors contribute to the variations of the forests. what grows where will be influenced by rainfall, wind, climate, topography, soils and even hurricanes.
Living in these forest communities are some 748 species of plants and trees. Of those, 642 are native to St. John. Native plants and trees are those that reached here without the help of people. Their seeds were carried by wind, waves or maybe birds to the island.
The dominant type of forest on St. John is dry tropical forest. It can be found on the eastern and southeastern portions of the island as well as low-lying coastal areas. It represents 50.51% of the forest community. Common trees of the dry forest are:
turpentine
(
Bursera simaruba
),
water mampoo
(
Pisonia subcordata
),
wild frangipani
(
Plumeria alba
),
gris gris
(
Bucida buceras
) and
genip
(
Melicoccus bijugatus
). Plants of the dry tropical forest include the
night-blooming cereus cactus
(
Hylocereus trigonatus
) and the
wild pineapple
(
Bromelia penguin)
.