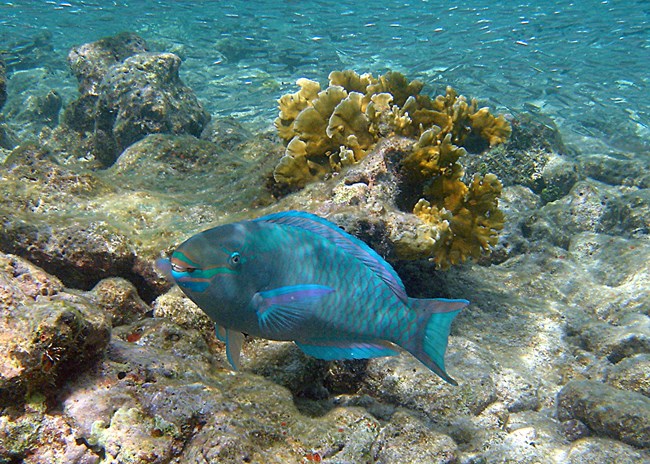 The boundaries of Virgin Islands National Park extend out into the ocean to protect almost nine square miles of water. Within this protected area, there are different ocean habitats that support hundreds of species of reef fish, thousands of invertebrates, three species of sea turtles and some marine mammals.
The most visited underwater habitat in the park is the
coral reef
. Approximately 40 species of corals grow in the warm (75-85 F), clear water, where they form fringing and patch reefs.
Corals are a very special group of animals that live in a colony. Corals have a soft inside structure called a polyp, which form a rigid external skeleton. As the polyps grow together in their tight colony, they take on different shapes and sizes that become the coral reef. There are branching corals, plate-like corals, dome-shaped corals and soft fan or whip-like corals. Some common corals in the park are:
elkhorn coral
(
Acropora palmate
),
staghorn coral
(
Acropora cervicornis
),
brain coral
(
Diploria strigose
) and
star coral
(
Montastraea annularis
).
Living on the coral reef are some 400 species of reef fish. Dominant families include
damsels
(
Polacentridea
),
wrasses
(
Labridae
),
snappers
(
Lunidae
),
surgeonfishes
(
Acanthuridae
),
grunts
(
Pomadasyidae
) and
parrotfishes
(
Scaridae
). Occasionally you may also see
barracudas
,
eels
,
sting
rays
and
sharks
.