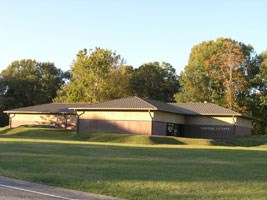 WEATHER AND CLIMATE
Summers are sunny, hot, and humid. Winters tend to be mild; however, humid rainy periods occur throughout the year. Sudden and severe thunderstorms are common, so stay alert to weather forecasts. Check with rangers at the Visitor Center and/or
USS Cairo
Museum for updates on weather patterns. In the event of severe weather, proceed to the visitor center or
USS Cario
Museum to seek shelter.
Wear comfortable sportswear appropriate for the season, with walking or hiking shoes recommended. Carry plenty of water with you. In the winter months, dress in layers as temperatures can change quickly. In the summer, wear hats and sunscreen, and take shelter in air conditioned buildings if you start to see signs of heat exhaustion.
Click here for the extended forcast.