Original Surrender Monument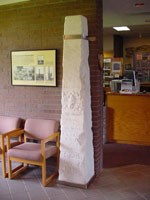 This is the original stone monument which marked the historic meeting place between the lines where Generals Grant and Pemberton discussed surrender terms for Vicksburg. The monument was initially slated to be a grave marker, but was confiscated by Federal troops to mark the surrender site. After only a few short years (1864-1867), the monument became heavily damaged by relic hunters and vandalism, and was moved from the battlefield and placed in the National Cemetery.
Still in peril from souvenir hunters, the marker was removed from this second location and placed in storage. It is now on permanent display within the security of the visitor center complex.
Last updated: April 14, 2015