Pets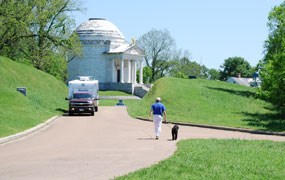 Pets are welcome in Vicksburg National Military Park, and many a visitor and local citizen enjoy an outing in the park walking their pets. If you plan to bring your pet with you on a visit to Vicksburg National Military Park, you should be prepared. An important thing to remember is that heat can kill. Be sure to carry enough water for you and your pet and do not leave it in an unattended vehicle. Temperatures in a modestly vented vehicle can still be high enough to stress or kill an animal.

Trails, hot pavement, and like terrain can injure the sensitive pads on a pet's feet, so be sure that their paws are protected. Hiking through wooded areas can pose a danger of ticks, which can spread diseases to you and your pet. Wear appropriate clothing to protect yourself, and check your pet thoroughly after a visit to the park to prevent any ticks from latching on to their skin. Don't deviate from trails while visiting a park with your pet, since harmful insects and reptiles such as poisonous snakes and spiders can hide in tall grasses and shrubbery.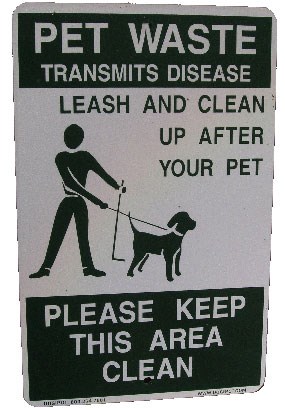 Tips to keep in mind:
♦ Pets are permitted in the park as long as they are on a leash. Please ensure that you pick up after your pet as it is courteous to the resource and other visitors. Bags are available in the Visitor Center and the USS Cairo parking lots, and it is best to keep a few on hand during your visit.

♦ Pets can potentially carry diseases that could affect the park's wildlife. Unvaccinated pets aggravate this threat, so please be responsible about keeping your pet's vaccinations up to date.
♦ Pets can unknowingly threaten wildlife, scaring birds and other animals away from nesting, feeding, and resting sites. The scent left by a pet can signal the presence of a predator, disrupting or altering the behavior of park wildlife. Small animals may hide in their burrow the entire day after smelling a pet and may not venture out to feed.
♦ Unfamiliar sights, sounds, and smells can disturb even the calmest, friendliest, and best-trained pets, causing them to behave unpredictably. Even in domesticated pets instincts can take over in a situation where they feel threatened or frightened.
♦ With the exception of designated service animals, pets are not allowed in visitor facilities or on the USS Cairo gunboat exhibit.
Last updated: April 14, 2015