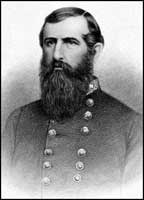 Lt. General John C. Pemberton
Commander of the Confederate Army at Vicksburg.
Lieutenant General John C. Pemberton was a native of Philadelphia, Pennsylvania, and a West Point Military Academy graduate. It was because of the influence of his Virginia-born wife, and many years of service in the southern states before the Civil War, that he became devoted to the South. Pemberton was made a Lieutenant General in the Confederate Army and assigned to defend Vicksburg and the Mississippi River. Upon Vicksburg's surrender, he voluntarily resigned his commission and served as a lieutenant colonel of artillery for the remainder of the war, a testimonial of his loyalty to the South.
After the siege, Confederate President Jefferson Davis wrote to Pemberton,
"I thought and still think you did right to risk an army for the purpose of keeping command of even a section of the Mississippi River. Had you succeeded, none would have blamed, had you not made the attempt few would have defended your course."