Pemberton and Grant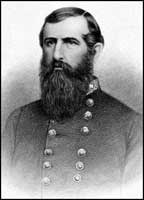 Lt. General John C. Pemberton
Commander of the Confederate Army at Vicksburg.
Lieutenant General John C. Pemberton was a native of Philadelphia, Pennsylvania, and a West Point Military Academy graduate. It was because of the influence of his Virginia-born wife, and many years of service in the southern states before the Civil War, that he became devoted to the South. Pemberton was made a Lieutenant General in the Confederate Army and assigned to defend Vicksburg and the Mississippi River. Upon Vicksburg's surrender, he voluntarily resigned his commission and served as a lieutenant colonel of artillery for the remainder of the war, a testimonial of his loyalty to the South.
After the siege, Confederate President Jefferson Davis wrote to Pemberton,
"I thought and still think you did right to risk an army for the purpose of keeping command of even a section of the Mississippi River. Had you succeeded, none would have blamed, had you not made the attempt few would have defended your course."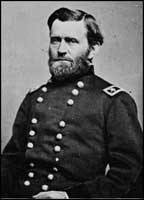 Maj. General Ulysses S. Grant
Commander of the Union forces during the siege of Vicksburg.
At the outbreak of the Civil War, Grant was working in his father's leather store in Galena, Illinois. He was appointed by the Governor to command an unruly volunteer regiment, where he took immediate control and turned the men into a disciplined group. By September 1861, he had risen to the rank of brigadier general of volunteers. Seeking to win control of the Mississippi Valley, he captured Fort Henry and attacked Fort Donelson in February 1862. When the Confederate commander asked for terms, Grant replied,
"No terms except an unconditional and immediate surrender can be accepted."
The Confederates surrendered, and President Lincoln promoted Grant to major general of volunteers.
At Shiloh in that April, Grant fought one of the bloodiest battles in the West, leading to more-or-less a tie between the two armies. President Lincoln fended off demands for his removal by saying,
"I can't spare this man--he fights."
His next major objective — Vicksburg — was a skillfully fought campaign to win this key city on the Mississippi, and cut the Confederacy in two.
At the start of the Vicksburg campaign, Grant's chief, Henry W. Halleck wrote,
"The eyes and hopes of the whole country are directed at your army, In my opinion, the opening of the Mississippi River will be to us of more advantage than the capture of forty Richmonds."
Last updated: April 14, 2015