Living History Programs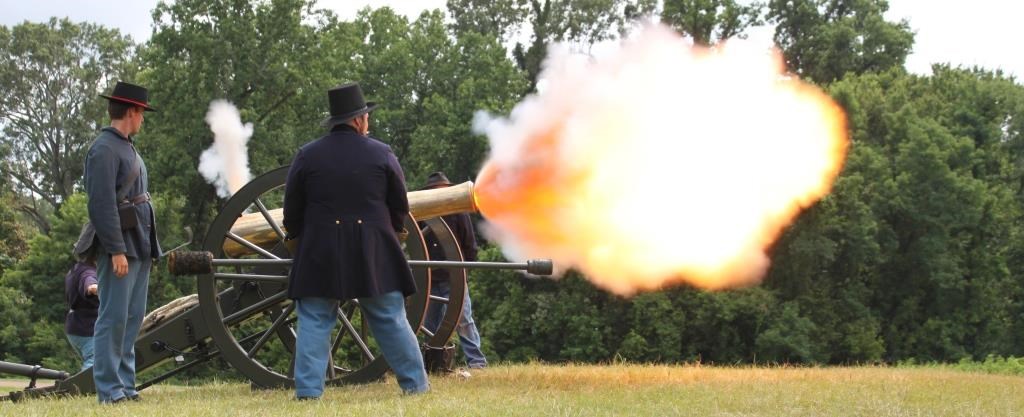 Living History Programming at Vicksburg National Military Park
Wanting to join the ranks of a dedicated living history crew here at Vicksburg National Military Park? 
Contact the Living History Coordinator for more information.
Requirements:
All interested volunteers are required to be 18 years old; physically and safely able to conduct the complex operations of historic weapons demonstrations. 
Perks:
Volunteers interested in historic weapons demonstration will be supplied with authentic reproduction Civil War uniforms, instructed in National Park Service safety regulations, and trained to proficiency in 19
th
century musket and artillery drills.
All volunteers are certified by a National Park Service Historic Weapons Supervisor which will enable them to join in on regular and special programming at Vicksburg National Military Park.
Interested parties will be required to complete a volunteer form to participate. A position description with job hazards to learn more about the safety related issues for volunteering for this position are available upon request.
All programs are free to the public. However, standard park entrance fees still apply for visiting the park.
COVID-19
Due to the ongoing pandemic, living history demonstrations may require visitors to sign up. Please dress for the elements as most programs take place outside. Continue to check back frequently as we add new events.
The King of Battle: Artillery Drill and Firing Demonstrations
Experience the power and awe of Civil War artillery. Come listen and learn from our trained historic weapons crew as they discuss the training Civil War artillerists went through during the Civil War. Feel the blast of our 12-pound Napoleon cannon! This programming is staffing and weather deprendent.
The Soldier's Experience: Army Drill and Musket Demonstrations
The crack of the musket. The smell of the powder. Come spend time talking with our Civil War infantrymen (and women) as we discuss life in the army, training of Civil War soldiers, and living musket firing demonstrations. This programming is staffing and weather deprendent.
Waving and Breaking the Codes: Civil War Signal Corps and the Process of Battlefield Communcation
Wig-wagging? Flags? Listen and watch as members of the signal corps discuss how this complex system of waving flags enabled both armies at Vicksburg to send long distance communications and break the enemy's codes! This programming is staffing and weather deprendent.
Civilian Impressions
Love history but the military aspects might not be your thing? We have scheduled program with volunteers dressed as civilians discussing life in Vicksburg before the war, during the siege, and afterwards. This programming is staffing and weather deprendent.
All Living History programming is subject to staffing availability and weather. Visitors can find information for these programs on the park website calendar or
here on the park's Facebook page.
Vicksburg National Military Park may conduct interpretive, living history, and historic weapons programming on anniversary events pertaining to the campaign and siege of Vicksburg such as:
The Battle of Port Gibson (May 1)
The Battle of Raymond (May 12)
The Battle of Jackson (May 14)
The Battle of Champion Hill (May 16)
The Battle of Big Black River Bridge (May 17)
The Assaults on Vicksburg (May 19 & 22)
The Surrender of Vicksburg (July 4 weekend)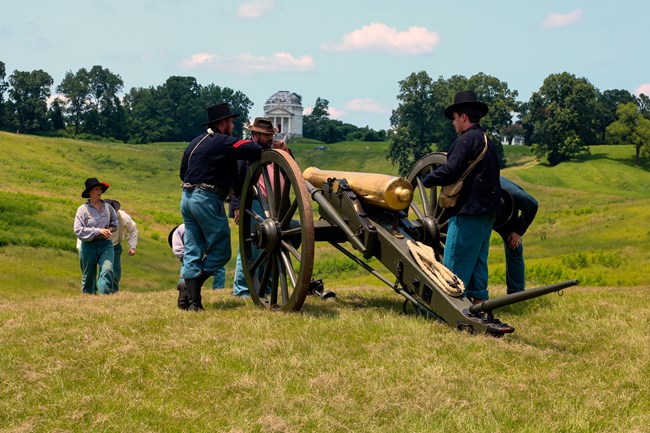 Past Living History Events:
July 1-2, 2022: The 159th Anniversary of the Surrender of Vicksburg.
Park staff will have musket firing demonstrations at 9:00 am and 10:00 am on both Friday, July 1st and Saturday, July 2 at the park visitor center.
Last updated: August 11, 2022