Historic Cannon Display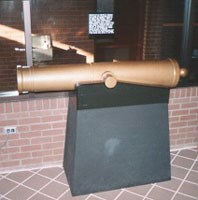 Manufactured by Marshall & Company in St. Louis, this 12-pounder Howitzer was manned by members of Battery A, 1st Illinois Light Artillery. Known as the Chicago Light Artillery, the unit served this piece at Fort Donelson, Shiloh, Chickasaw Bayou, Arkansas Post, and Vicksburg. During the siege, it saw action along the Old Graveyard Road (Tour Stop #5). In recognition of its gallant service, the unit received a new cannon during the siege of Vicksburg. An inscription on its breech states that the cannon fired 1,900 rounds before it was retired from service in June 1863.
This is the only cannon on display within the park which can be positively identified as being involved in the campaign and siege of Vicksburg.
Last updated: April 14, 2015