Cave Life Exhibit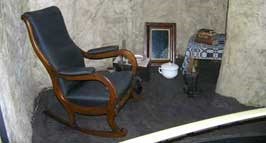 To escape relentless shelling from Federal artillery, many citizens of Vicksburg took refuge underground. They dug caves into the hillsides of loess soil, a fine-grained clay deposit indigenous to this area. Single family caves had only one or two rooms, others were huge and said to have accommodated as many as 200 people. To avoid entrapment and induce air circulation, caves often had several entrances. Cooking took place outside the entrances.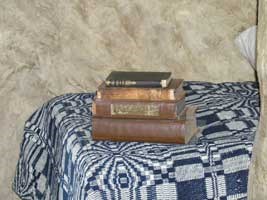 Amenities were preserved in the caves with carpets, furnishings, and wall niches for books, candles, and flowers. Jane Bitterman described her underground quarters as "far more pleasant than the people imagine." Thanks to widespread use of caves, only a very small number of Vicksburg citizens were killed or wounded during the 47 days of sustained bombardment.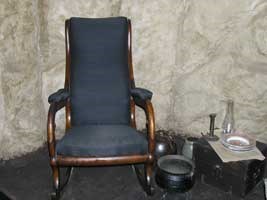 All furnishings shown in this exhibit are original pieces of the Civil War era, and are typical of household articles brought into the caves during the siege. The rocking chair was used in one of the Vicksburg caves.
Last updated: April 14, 2015