Eastern National Bookstore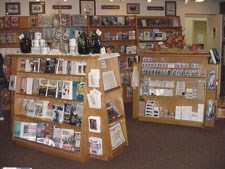 Visitors enjoy one of the best selections of books, maps, videos, cassette tapes, post cards, clothing, computer software, and other items relating to Vicksburg National Military Park, the Civil War, and associated National Park Service areas. The bookstores at the Visitor Center and Cairo Museum are operated by Eastern National, a cooperating association with the National Park Service.
If you need assistance or would like to place an order, you can contact Eastern National by calling (601) 634-6286, or visit their website at
http://www.eparks.com/store/home/5781/Vicksburg-National-Military-Park/
.


Last updated: June 2, 2015