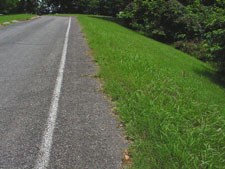 Before starting your trek through Vicksburg National Military Park, read these instructions thoroughly.
Register your group at the Visitor Center. After viewing the introductory film, you are ready to begin the hike. Take your group to one of the two cannon directly in front of the Visitor Center and begin hiking north along Confederate Avenue (to your left as you face the Visitor Center), walking against the flow of vehicle traffic. As you hike past tour stops on the 7-mile trek, stop and have one of the hikers or an adult leader read the plaques and monuments at the various sites.
There are no questions which must be answered by hikers of the 7-mile trek. However, it is not intended to be a speed hike. Each hiker is requested to read as much of the information given on the plaques and monuments as time will permit. As the trek is walked, adult leaders should remind the group of the thousands of Americans, many the same ages as they, who gallantly fought and died on these same grounds. Every one of them, both from the North and the South, was fighting for a cause he felt to be right.
As you complete the trek and leave Vicksburg National Military Park, carry this thought with you —
"Here brothers fought for their principles; here heroes died for their Country. And a united people will forever cherish the precious legacy of their manhood."

Complete the award form available on this web site, and mail it to the Vicksburg Trails Commission. Be sure to include a check or money order for each award desired.
It has been our pleasure to host your scout troop. Your comments on the trek and suggestions for improvement would be sincerely appreciated.