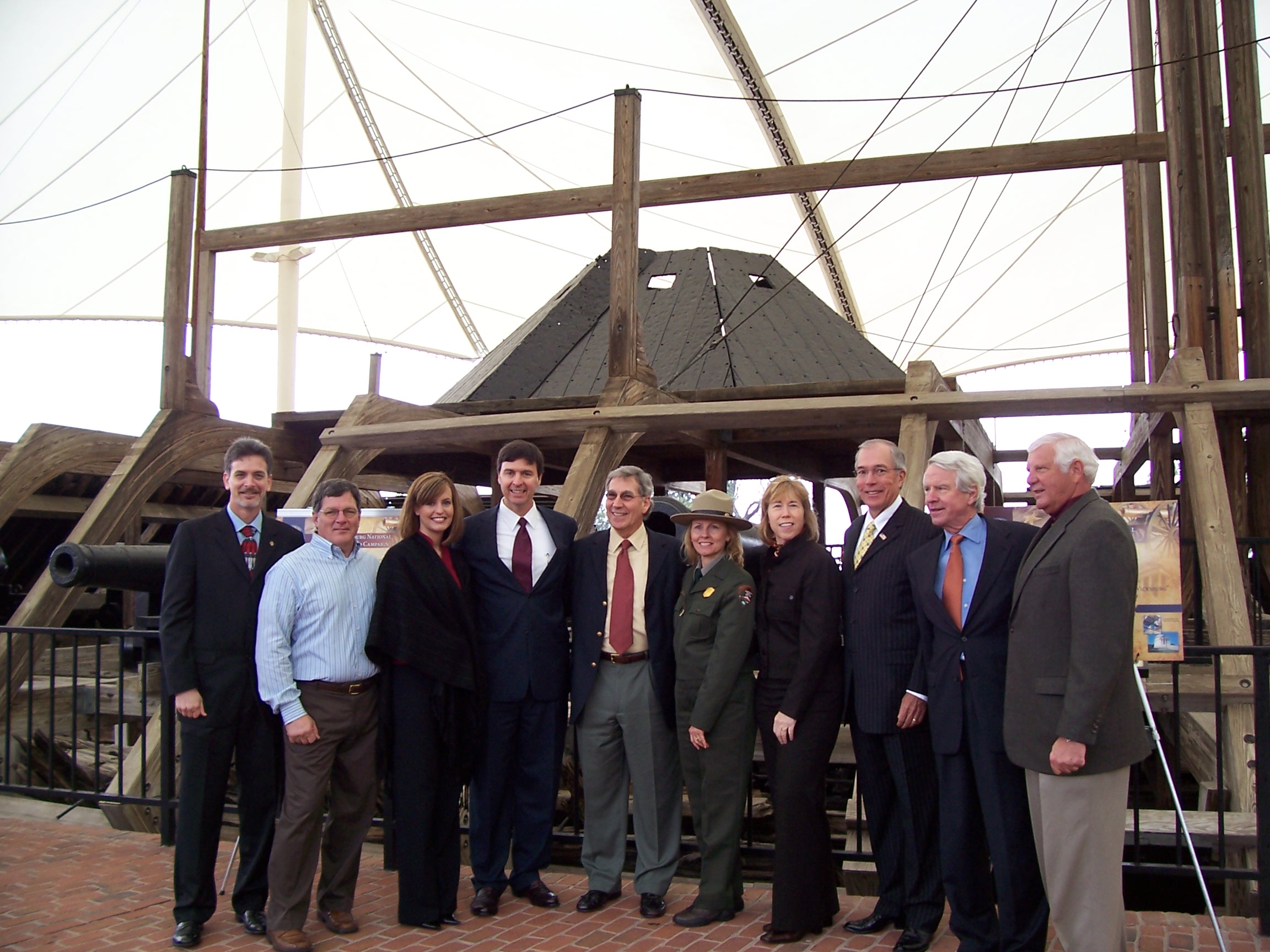 News Release Date:
February 22, 2008
Contact: Monika Mayr, 601-619-2902
On a stormy February 21st in Vicksburg, a dual birthday celebration took place: it was the 109th anniversary of the park and the public debut of the new Friends of the Vicksburg National Military Park and Campaign.
Board members and volunteer staff gathered in front of the USS Cairo to announce the creation of the Friends Group to interested citizens and media representatives. Friends Group President Kim Tullos presided over the ceremony that included remarks from Superintendent Monika Mayr and Advisory Council on Historic Preservation Chairman John Nau, who is also a Board Member. Chairman Nau conveyed congratulations to the group from President Bush and Deputy Secretary Scarlett.
The Friends Group's initial undertakings include an "Adopt a Monument" program to raise funds for preservation of the parks 1300 sculptures, monuments, markers, and tablets; projects at Pemberton's Headquarters; and replacing 144 tablets that were taken from the park during the WWII metal drive. At the ceremony, Billy Southwell, President of the Southwell Company that manufactures signs, markers, and tablets, and Chairman Nau each pledged to replace a missing tablet.
For more information about the Friends Group, visit www.friendsofvicksburg.org.
In the picture from left to right: William Bobb, first Friends Group member; David Maggio, Deputy Executive Director; Brenda Prazak, Website Developer;  Bobby Bailess, Board Member; Landy Teller, Vice President; Monika Mayr, Superintendent; Kim Tullos, President; John Nau, ACHP Chairman and Board Member; Mac Varner, Board Member; and Harry McMillin, Executive Director.