Wildflowers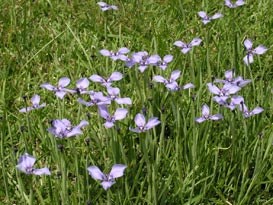 Wildflowers in Vicksburg National Military Park bloom year-round, sometimes in a profusion of brilliant colors, other times in a more subdued manner. From the smallest bluet to the bright orange trumpet vine to the explosive red rain lily, the park's wildflowers are a delight to visitors at any time of the year.
Over 200 species of wildflowers have been inventoried in the park, along with documentation regarding their historical value and uses. Some of these species are non-native – a prime example is kudzu – and must be regularly controlled through the exotic species management program. Considered weeds by some and treasures by many, wildflowers can be indicative of the landscape's health and maintenance. The open, mowed roadsides have become ideal locations for carpets of the prairie nymph, a Mississippi species of special concern locally abundant in spring time in the park, and the restored areas of the battlefield boast meadows of verbena, dayflowers, and maypops. Within the forested areas of the park grow cross-vine, yellow jessamine, Carolina moonseed, trumpet honeysuckle and virgin's bower. Along the forest edge, an observer can find wild lettuce, blue-eyed grasses, and Venus's looking-glass. Even the dreaded poison ivy and stinging nettle boast small, delicate flowers.
For the visitor who enjoys the pleasure of wildflowers, Vicksburg National Military Park provides the perfect experience.


Last updated: April 14, 2015