Wetlands, Marshes and Swamps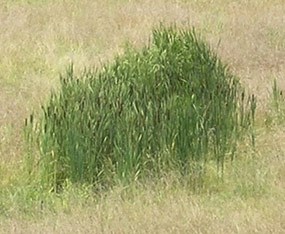 Wetlands can take many shapes and forms, but all are important resources characterized by periodic saturation with water and colonization by non-woody vegetation adapted to moist conditions.
One of the most valuable, yet fragile components of a watershed, wetlands are crucial to the health of Vicksburg National Military Park's ecosystem. Historically, the area was once covered with forested swamps, created when ancient river courses crossed and re-crossed each other, forming enclosed basins in the regions between rivers and bayous. Many of these backswamps filled with dense stands of bald cypress and tupelo trees creating habitat for alligators, water snakes, countless aquatic birds, and numerous fish.
The park contains wetlands in the forms of wet meadows and riparian areas, particularly in the South Loop area, where a low-lying depression and less well drained soils occur. Here, also, is where extensive battlefield restoration has taken place. The work in the areas near Fort Garrott and Railroad Redoubt has entailed removal of vast numbers of trees planted in the mid-1900s, and opened the landscape to more grassland and herbaceous plants. A small stream running below Railroad Redoubt is also considered a vital wetland area, and is being maintained as a buffering area of the restoration process.
Vernal or ephemeral pools also occur in the park, providing shallow water habitat for many faunal species, and acting as a food source (i.e., insects, herps), for many predators such as bats and raccoons. These areas only exist during the wettest time of the year, drying up and becoming unavailable during the hot Mississippi summer.
Preservation and maintenance of these wetland areas in the park is vital to improve water quality, wildlife habitat, aesthetics, and productivity. They also play an important role in reducing flood intensity and their loss can prove devastating, a fact sadly demonstrated during the terrible destruction by Hurricane Katrina on the Gulf Coast.
Wetlands areas in Vicksburg National Military Park not only provide a diverse habitat, but they create a pleasing appearance to the landscape and serve as exceptional outdoor classrooms for the nature enthusiast.


Last updated: April 14, 2015