Watersheds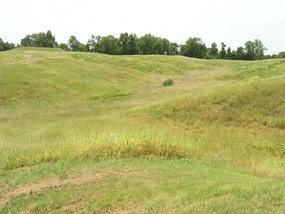 As part of the vast Mississippi River Basin, Vicksburg National Military Park constitutes a large watershed area. As stated by John Wesley Powell, Civil War (and Vicksburg siege) veteran, and first scientist-geographer to travel the Colorado River through the Grand Canyon, a watershed is:
"…that area of land, a bounded hydrologic system, within which all living things are inextricably linked by their common water course and where as humans settled, simple logic demanded that they become part of a community."
The unique land formations that make up the terrain of the park were developed, in part, through the constant action of water from the Mississippi River and its tributaries. Constant change in the river's course resulted in cutting off meandering loops to form oxbow lakes and backswamps, or abandoning long sections of the river channel, forming bayous. Bordered by natural levees, these formations have created a complex network of interconnecting waterways, all draining their water, sediments, and dissolved materials back into their source – the Mississippi River.
Because of the unique features of this rugged watershed, Vicksburg was favored with vast natural defenses, making it a coveted prize for both the Confederacy and the Union forces during the Civil War.


Last updated: April 14, 2015