Mosses and Liverworts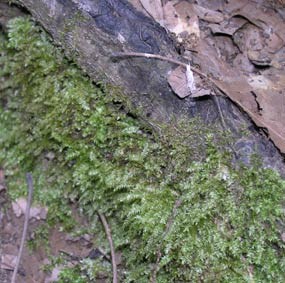 From many of the footholds created in natural surfaces by lichens, bryophytes like mosses and liverworts will often be the next organisms to propagate, ultimately becoming a layer of topsoil for higher plants to take root. Closer to lichens than any other members of the plant kingdom, mosses and liverworts are small, green plants which prefer moist areas, and are found, not only on rocks, but fallen logs and tree trunks.
Mosses and liverworts are found throughout the park's landscape, particularly in the shaded, damp areas along stream banks and ravine bottoms. The mosses' soft, spongy texture gives the appearance of a green carpet along the trails through the park's interior, while liverworts can give the impression of small hanging ferns. As with lichens, mosses and liverworts are also sensitive to air pollution, and have become good indicators of environmental and habitat quality.


Last updated: April 14, 2015