Lakes and Ponds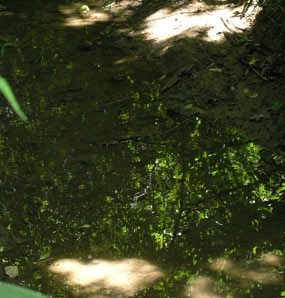 Vicksburg National Military Park has several small ephemeral ponds within its interior, and at least two permanent ponds outside its boundaries just northeast of the Memorial Arch entrance, and in the lowlands northeast of the Navy Monument in the northern section of the park.
Although not extensively studied regarding their water chemistry and quality, these ponds have been found to provide needed habitat and nutrients for many plants and animals throughout the park. Mist-netting for bats during the mammal inventory process revealed pond use by these nocturnal creatures as a source for insect forage. These water sources are also important for providing the needed hydration of the many other mammals, birds, and herps residing in the park's interior.
The plant growth around these ponds, in addition to providing cover and food for many species, is also a good indicator of environmental quality of the surrounding landscape. Ongoing construction and battlefield restoration affects the runoff, turbidity, and chemical content of these ponds, and they will be monitored for both detrimental and beneficial effects.


Last updated: April 14, 2015