Ferns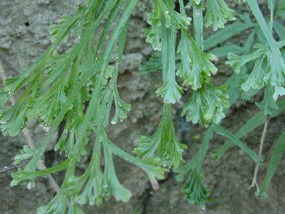 Ferns can be found almost anywhere in the world, save the searing desert soils, in both dimly-lit and open, sunny landscapes. Often thought of as delicate and needing a lot of moisture, ferns have proven themselves to be quite hardy, once established in an area. And this is very true of the species of ferns identified in Vicksburg National Military Park. Producing spores so tiny so as to be considered part of the every-day "dust" constantly afloat in our environment, ferns have more mobility in their dispersal than flowering plants, and are able to persevere and remain viable through the most extreme climatic conditions.
The Christmas fern (Polystichum acrostichoides) is abundant throughout the park. Readily recognizable by its "Christmas stocking" leaflets, this fern grows profusely along the shaded wooded stream banks and in the steep ravines. Others, such as the Spider Brake fern (Pteris multifida) are more localized, growing from the limestone rock face near the falls on Mint Springs Bayou. Still others, like the Southern Grape fern, (Botrychium biternatum) sprout their spike-like fronds in the drier, open grassy areas in the park.
Each fern has its own preference for temperature, humidity, soil type, moisture, and pH, light levels, etc., and in many cases are very specific indicators of the conditions they need. This, in turn, makes ferns very good ecological indicators, providing valuable tools to measure environments, and enable decisions on habitat conservation and natural resource management.


Last updated: April 14, 2015