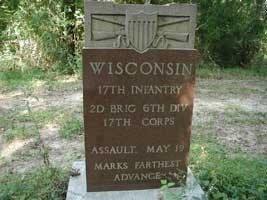 Vicksburg National Military Park is one of the more densely monumented battlefields in the world and contains an extensive collection of historic structures including 661 monuments, 594 cast iron tablets and position markers, 70 bronze castings, 18,000 headstones (national cemetery), 141 cannon and carriages, 15 bridges, 6 buildings, and an city class, ironclad river gunboat, the
USS Cairo
.
The monumentation, of which 95% was erected prior to 1917, features stone and bronze work created by the some of the most renowned American sculptors, giving the park the distinction of having one of the largest collections of outdoor art in the southeastern United States.
Preserving the park's historic structures mandates a comprehensive and well-defined program of routine and cyclic maintenance. It includes regular monitoring and inspection, detailed documentation, and an extensive schedule of cleaning, washing, waxing, repointing, painting, and stabilizing a wide variety of historic monuments, markers, tablets, plaques, and cannon.
The park staff must also provide adequate protection from natural processes such as erosion and acid rain, as well as various human impacts including vandalism, looting (relic hunting), and regular visitor use.
The Illinois State Memorial is the largest, and most impressive monument in the park, costing approximately $195,000 to construct in 1906. Today it would cost in excess of $45 million to build a similar structure. In the 1990's it cost the National Park Service almost as much to clean and waterproof the monument as it did to erect it in 1906.
In 1942, approximately 450 cast iron position and narrative tablets were removed as a token contribution to the metal drive for World War II. The park has initiated a tablet replacement program using funds collected in donation boxes at the Visitor Center and Cairo Museum. When first erected earlier this century, the tablets cost between $5-$25 each for casting, shipment, and placement. Today, estimated replacement cost for tablets range between $1,000-$1,500 a piece.
Bronze and Metal
Cannon and Carriages
Cast Iron Tablets
Stonework