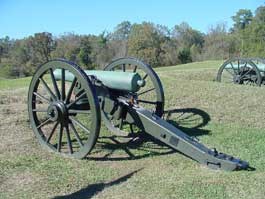 Heat, precipitation, dust, and humidity are constant threats which take a toll on wood and metal surfaces. Preservation and restoration efforts on cannon and carriages must not only mitigate decay, but be completed in such a way that it does not cause any additional harm or damage to the delicate parts or surfaces.
Restoration tasks such as painting the metal and wood on cannon can be very long and labor intensive. Can you guess how long it would take to paint every spoke and wheel on the park's 141 historic cannon and carriages?
As part of a cyclic maintenance program, cannon and carriages in need of attention are painted approximately every three years.