Wintergreen Cemetery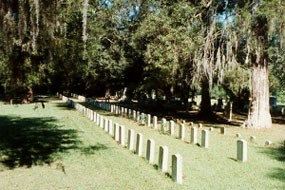 Established in 1807, Wintergreen Cemetery is the final resting place for the majority of Confederate soldiers killed in the Battle of Port Gibson. Shortly after the conflict, the townspeople removed the Confederate dead from the battlefield and interred them here in Soldiers' Row. Small footstones marked C.S.A. were placed by the United Daughters of the Confederacy. These small footstones are still in place.
In 1985 an effort was initiated by Roger B. Hansen of Pascagoula, Mississippi, to identify the Confederates buried in Wintergreen. The year-long project resulted in the only documented listing of these Battle of Port Gibson dead. The list was used to acquire headstones from the Department of Veteran Affairs, and these were erected in 1986.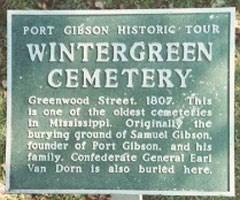 Confederate Generals Earl Van Dorn and Benjamin Grubb Humphreys are also interred in Wintergreen Cemetery, but not in Soldiers' Row. Confederate Major General Earl Van Dorn was born near Port Gibson on September 17, 1820. Graduating from the United States Military Academy at West Point in 1842, Van Dorn saw service in the Indian campaigns, served with gallantry in the war with Mexico, and attained the rank of major in the 2d U.S. Cavalry before the outbreak of the Civil War.
Commissioned a brigadier general in the Confederate service in June 1861, and a major general three months later, he commanded the Army of the West in the Battle of Pea Ridge. Although defeated, he remained in high esteem, and later commanded the Army of Mississippi at the Battle of Corinth. Again defeated, he was removed as army commander and placed in charge of Confederate cavalry operating in Mississippi. In this capacity he enjoyed much success, with the crowning achievement of his military career coming in December 1862 when his command destroyed General Grant's Union supply base at Holly Springs, Mississippi, temporarily halting the Federal overland campaign against Vicksburg.
On May 7, 1863, Earl Van Dorn was shot and killed in Spring Hill, Tennessee, by Dr. James B. Peters for what the doctor claimed was the violation of the
"sanctity of his home."
Last updated: February 23, 2018