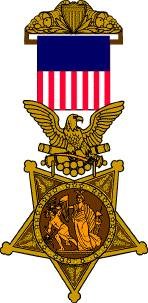 The Medal of Honor is the highest and most prestigious personal military decoration that a service member can earn. The medal is usually awarded by the President of the United States in the name of the United States Congress to service men and women who distinguished themselves by acts of valor.
The Medal of Honor was created by the US Navy in 1861 and named the "Medal of Valor." The US Army began issuing a Medal of Honor in 1862 to men who distinguished themselves "conspicuously by gallantry and intrepidity" in combat with enemies of the United States.
The Medal of Honor is the oldest continuously issued combat decoation of the United States Armed Forces. To date, over 3,500 Medal of Honors have been awarded- less than half were awarded during the Civil War, and an astounding 120 Medal of Honor's were granted to troops during the siege of Vicksburg.
Noteable stories of Medal of Honor winners at Vicksburg include Orion P. Howe, who was awarded the medal at 14 years of age during the Union assaults on May 19, 1863, and the 78 men of the
Forlorn Hope
who received the Medal of Honor for their efforts to capture Stockade Redan on May 22, 1863.
The Confederate States of America established the Confederate Medal of Honor on October 13, 1862. During the Civil War, 48 men and one woman were honored with the award by the Confederacy, however due to a medal shortage, medals were not minted for more than 110 years. Captain Issac Newton Brown, of the
CSS Arkansas
was awarded the Confederate Medal of Honor in part due to the valor and leadership he showed during the
Arkansas'
attempt to relive the pressure from the US Navy on Vicksburg.