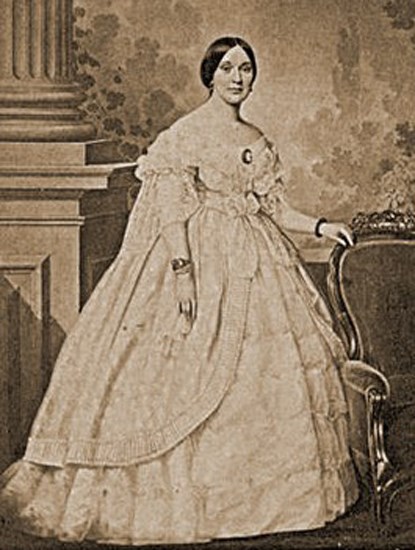 The second wife of Jefferson Davis was born at "The Briars" in Natchez, Mississippi, in 1826. Her father, William Burr Howell, was a close friend of Davis' older brother, Joe. It was through this connection that Varina met her future husband in 1843 while she and her father visited with the elder Davis at his Hurricane Plantation in Warren County, just south of Vicksburg. Despite the age difference, and a difference in political views, the Howell's consented to Davis' request to court their daughter. The couple was soon engaged, but just before their planned elaborate wedding, the engagement was cancelled. Jefferson and Varina continued their courtship and were again engaged, and their wedding took place at "The Briars" on February 26, 1845. The couple took up residence on Davis' Brierfield Plantation in Warren County, and six children were born to this union, only one of whom, Margaret, would outlive their parents.

On February 10, 1861, while pruning roses at Brierfield, a courier arrived with the notice that Davis had been elected provisional president of the Confederate States of America. Varina recalled: "The messenger with the notification that Mr. Davis had been elected President...found him in our garden assisting to make rose cuttings; when reading the telegram he looked so grieved that I feared some evil had befallen our family. After a few minutes' painful silence he told me, as a man might speak of a sentence of death. As he neither desired or expected the position, he was more deeply depressed than before."

Just as with their counterparts, the Lincolns, personal tragedy followed the Davis family to the Confederate capital city of Richmond. On April 30, 1864, their son, Joseph Evan Davis, fell from a second floor balcony of the Southern White House and died. In later years, the Davis family settled at Beauvoir, near Biloxi on the Mississippi Gulf Coast, where the former president penned his memoirs. Davis died in 1889 and was initially interred in New Orleans and later moved to Hollywood Cemetery in Richmond, Virginia. Upon her death in 1906, Varina was interred next to her husband.